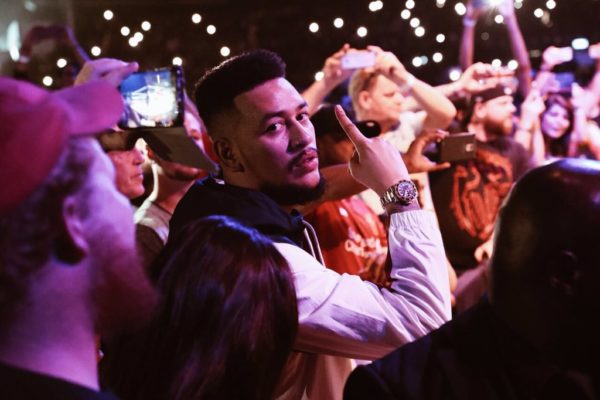 AKA was in charge of things when the WWE wrestlers took center stage in South Africa. The rapper was invited to spice things up and in true AKA style, he made his presence felt by the big dawgs. He told the wrestlers "You are now looking at the boss. You had to come to Johannesburg to meet a real star."
AKA told his fans that the moment proved that if you truly believe in yourself, all your dreams can come true.
"This is a moment for the culture…SA hip-hop on WWE…what?! Are you for real? If you told me that this would happen back when I was 12 years old, I would have told you in a high pitched voice that you're out of your God DAMN mind."
In a Tweet the rapper described the opportunity as a dream come true.  Check out some of the highlights of AKA at WWE below!
This weekend has been a dream come true. Thank You @WWE for an experience I will never forget. ???????? #WWELIVE #WWEJHB ???????? pic.twitter.com/BOreed2ijY

— AKA (@akaworldwide) April 21, 2018
WHO WANTS TO WALK WITH THE SUPA MEGA?!?! @IAmEliasWWE ????????@WWE #WWELIVE #WWEJHB ???????? pic.twitter.com/TIMS6pJjq8

— AKA (@akaworldwide) April 21, 2018
THE SUPA MEGA ⭐️???????? @WWE ???????? pic.twitter.com/obuq76MAq1

— AKA (@akaworldwide) April 21, 2018
.@akaworldwide in #TitusWorldwide?! South African star AKA made a special appearance in front of a SOLD OUT crowd in #WWEJohannesburg! pic.twitter.com/AK8i5452WS

— WWE (@WWE) April 21, 2018
Im in Character … A tribute to the Excellence of Execution … The best there is, the best there was, and the best there ever will be. #TheHitman ???????????????????? @wwe #WWELIVE #WWEPRETORIA pic.twitter.com/Z2NC1Q286l

— AKA (@akaworldwide) April 20, 2018
If you TRULY believe in yourself … you can make ALL your dreams come true. @WWE #WWELIVE ???????????????? pic.twitter.com/GaRmP9RAew

— AKA (@akaworldwide) April 20, 2018