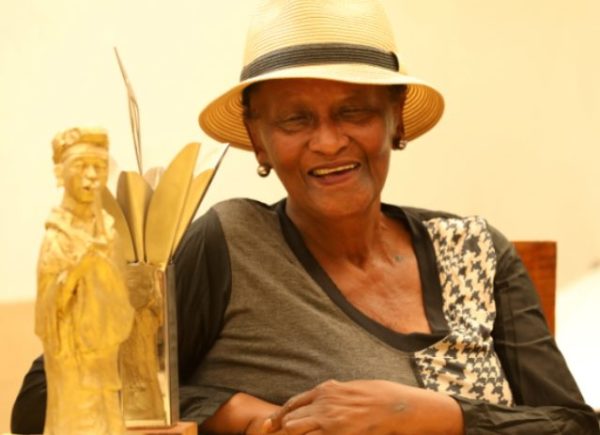 Veteran Mzansi actress, Nomhle Nkonyeni, was confirmed dead in the early morning hours of Wednesday, 10 July.
The award-winning 77-year-old has been in hospital since Friday, 5 July, and her nephew, Vusi Manapha, confirmed that she has died, according to Herald Live.
Nkonyeni is a greatly-admired woman, not only for her acting but also for the many things she did for others, and will be sorely missed.
Last month the actress expressed her joy at having Aggrey Road in New Brighton, where she grew up, renamed in her honour.
"I grew up in New Brighton. My relationship with that street is my church, Arthur Wellington Church, which was built in 1945. I spent most of the week in that street – on Monday I would attend the little girls' prayer, on Wednesday I was there, on Friday we visited the temple. I spent a lot of time there," she said.
Earlier this year Nkonyeni, describing the 50 years she had spent in the industry, said it would take her "forever" to talk about the work she had done.
Tributes paid to the late star are:
Ooh maan Mama wethu, my heart bleeds, #RIPNomhleNkonyeni

The municipality just renamed a street to her name, we will forever miss you ❤️❤️❤️❤️🙏 pic.twitter.com/SmmqoTNngU

— Nonke Mabizela (@nonkem) July 10, 2019
Time to say good bye to Mam Nomhle Nkonyeni. Thank you for the laughs at the height of apartheid pain. Heartfelt condolences to family #RiPNomhleNkonyeni pic.twitter.com/Nw7njiFKnk

— Prof Thuli Madonsela (@ThuliMadonsela3) July 10, 2019
I am deeply saddened by the passing of a great friend Nomhle Nkonyeni. I have just received the news from Minister Nathi Mthethwa. I have no words to express my pain. pic.twitter.com/uTtGB3dxPR

— JohnKani (@JohnKani2) July 10, 2019