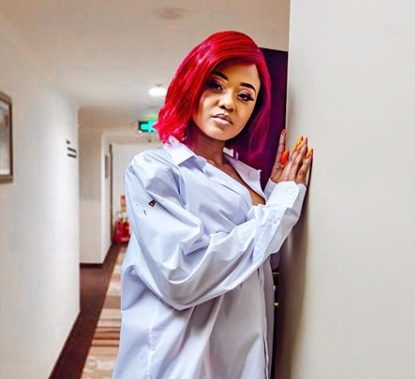 Babes Wodumo might have sought attention the wrong way but she's successfully let out the cat after keeping followers on their toes with a suspense-filled post.
Days back the singer teased about being pregnant for Mampintsha, and while we were yet to get an official confirmation, she revealed on Friday morning that she will be making a big announcement by 10 am.
All hands crossed and eyes fixed on screens waiting for the news which was assumed by many followers to be announcement on her being pregnant.
You preparing to make the announcement that ur pregnant pic.twitter.com/jJqy0iYVXX

— PABLO (@WonderMahlobo) August 2, 2019
Mampitsha finally gave birth 🙁🙁 That guy been pregnant for decades phela manje pic.twitter.com/Rurvd5aMqI

— Roc 🙌🐐 (@Zamo_BZ) August 2, 2019
Go tell mampintsha not us. You wasted so much of our emotions when we were worried sick of you kanti it was all just a game

— Andza Mpongo (@tonyvayga) August 2, 2019
Imagine keeping people at their toes just to tell them that your Oros made you pregnant 🙄 baze balithwala idombolo your fans

— Free State Ambassador (@Heisenberg_ZA) August 2, 2019
We can all see that you pregnant

— XO DIKELA (@LungaQM23) August 2, 2019
Some of the fans were not bothered by news though, but by 10 am, Babes revealed the unexpected news on dropping a new single and many followers spilled their anger on Twitter.
I am Super EXCITED to announce my single #Ungdunure and it's available on ALL PLATFORMS. Stream or Buy now https://t.co/7CwaPYCsMD

— Bongekile simelane (@BABESWODUMO) August 2, 2019
Celibrities think that we actually care about what they do and post on social media.This is just a platform for us to roast each other and collect memes. pic.twitter.com/FQVGivtnZC

— Sbu Mkhize (@SbuTitan) August 2, 2019
I thought you were gonna announce that mapintja has given birth pic.twitter.com/3MUIjdz1l8

— RAINBOW KID☔🌈🌻 (@mashoto_) August 2, 2019
😔😔😔 best Marketing strategy ever pic.twitter.com/kvqqcicXgc

— Roc 🙌🐐 (@Zamo_BZ) August 2, 2019