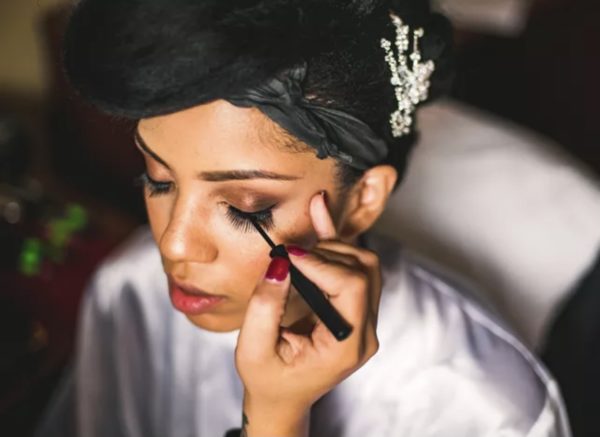 As a bride, one of the key things to consider on your wedding day is the makeup that you are going for.
Get it right and you will look like a million dollars as you walk down the aisle, get it wrong and you may live to regret the photos for many a year!
To help you achieve the former, here are 5 important things to tell your makeup artist before your wedding.
1. Let them know the dates and times well in advance
If you are a stickler for time-keeping, then making your makeup artist aware of the date and time of your wedding is a priority. You must agree that they will arrive punctually on the day as you can't afford to have a meltdown over makeup while you're trying to sort your hair, dress and bridesmaids that morning. If you have done your homework on the artist you should already know whether or not they are reliable, but just in case, remember to tell them a time months before the big day and keep reminding them coming up to the wedding.
2. Ask about fitting in several trials
It is essential that you let your makeup artist know well in advance that you want multiple trials so that they can book you in and perfect the look that you want before the wedding. Trials will allow you to experiment with different brands and colours and help you and the makeup artist to refine the look that you are going for. Trials will hopefully prevent you having a tantrum on the day and give you one less thing to worry about that morning.
3. Statement lips or eyes? (But not both!)
Everyone wants to stand out on their wedding day, but you really don't want to over do it. Remember that all eyes will be on you and it's generally a good idea to tone down heavy makeup habits. If you want to look elegant and graceful, and not like you are getting ready for a night on the town, it's important to tell your make up artist to go for either a bold lip colour or bold eye shadow colour – but not both. Ask their opinion and see which one they would recommend. This helps you to make a statement while adding to the look you are going for with your dress and hair, not just making it all about your face.
4. Make sure you're still recognisable
While it's your wedding day and you probably don't want to simply go for your everyday makeup look, even natural makeup can be overdone to the point where you don't really look like you. You might want to look even more glamorous than you normally do, but you still want your groom to know who you are when you walk down the aisle! Consider shades and colours that compliment your face nicely, not ones that will change the complexion of it drastically. Your wedding day is not the best time to experiment with a whole new look.
5. What overall look do you want to achieve?
Makeup artists are the professionals, but you shouldn't be afraid to give your input if you have a certain look in mind for your wedding. After all, you are paying them so that means you are the one calling the shots. If your makeup artist is skeptical about the look but you love it, don't let them influence you – as long as you're happy with it that's all that matters.