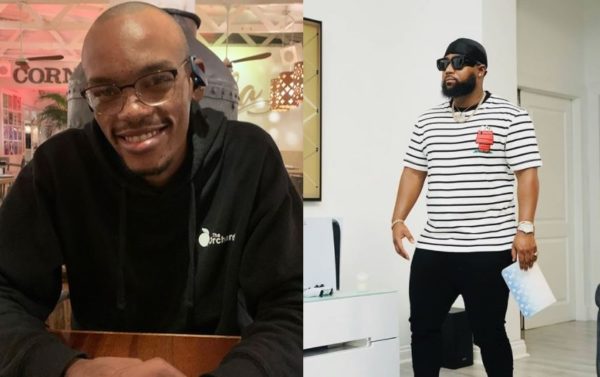 Nota Baloyi calls Cassper Nyovest the biggest cyberbully after the rapper tagged Slik Talk the biggest cyberbully.
Taking to Twitter, the rapper expressed excitement over winning the boxing match against the YouTuber.
"Don't forget, the biggest cyberbully Slik talk was knocked out on camera by Cassper Nyovest this year."
Afterwards, Nota accused Cassper of using his fans to bully people on social media.
"Cassper Nyovest is the biggest cyberbully. He weaponised his fanbase to attack anyone who criticises him & even people who disagree with him. I'm glad Slik Talk is trending again. Let's not forget how he closed the 2021 calendar, can't what to see how far he goes in 2022," he said.
Meanwhile, few weeks ago, The Authority, as he popularly calls himself, claims that Mufasa didn't buy the Mclaren car, but it's a paid partnership to promote the brand.
The rapper slammed the claim and fans joined in shutting down the Critic.
Lol… well, this is funny… Bafethu le tlo wa ke di pelo tryna keep up with me with your lies. Trust me! I'm soooooooo Gone!!! Yall can even imagine the bag right now. Yall gone say I'm an ambassador for Rolex too soo cause I keep buying them for my family and freinds. https://t.co/dgWs6eaVE8

— Don Billiato (@casspernyovest) December 18, 2021
I blocked Cassper to stop him reacting to my tweets & I don't follow anybody so all see is trending topics! https://t.co/XCEwIqLwb8

— The Authority (@lavidaNOTA) December 31, 2021
The rapper also tweeted about those who criticise his success, especially Nota.
"2022 we try therapy gents? Some people aren't grand here and they taking out their misery on other people's kids. Bo, Nota so, zama di pilisi ntja."
2022 we try therapy gents ? Some people aren't grand here and they taking out thier misery on other people's kids. Bo, Nota so, zama di pilisi ntja.

— Don Billiato (@casspernyovest) December 31, 2021