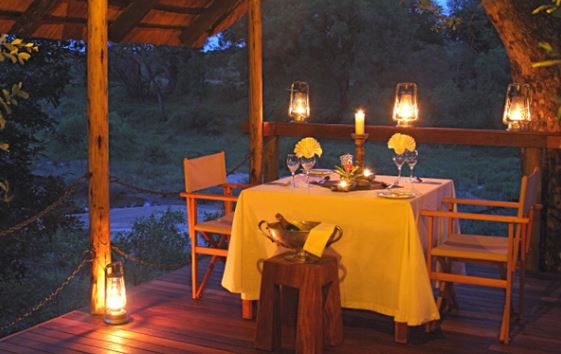 There is no denying the fact that South Africa is one of the most beautiful countries in the world.
Fortunately for you, this could work to your advantage if you have found the love of your life.
If you are ready to pop the question or you are simply looking for ideas, then you are in luck because there are plenty of romantic places to propose in South Africa.
1. The Kruger National Park
The Kruger National Park is one of the best and biggest wildlife sanctuaries in South Africa. It is a beautiful destination filled with open air, beautiful animals, magnificent scenery and it is also one of the most romantic places to propose in South Africa.
Try to picture getting engaged under a beautiful African sunset, with the sounds of animals running wild in the distance.
2. The top of Table Mountain
Wouldn't it be fantastic to get engaged on one of the world's seven natural wonders? Consider taking the cable car to the top of Table Mountain and popping the question when it is least expected.
If you prefer not to take the cable car, consider a hike to the top. What a lovely gesture it would be proposing when you get to the very top together.
3. A Hot air balloon over Magaliesburg
Not only is a hot air balloon ride over Magaliesburg extremely beautiful but it is also very romantic.
Picture gliding high over the beautiful Magaliesberg bushveld at sunrise, sipping champagne. You could then get down on one knee and pop the question. What a beautiful, romantic way to get engaged.
4. A picnic at Walter Sisulu National Botanical Gardens
If you in the Johannesburg region and you are looking for romantic places to propose in South Africa, without having to venture too far, then The Walter Sisulu National Botanical Gardens may just be your perfect venue.
The Walter Sisulu National Botanical Gardens is a hidden gem. Although it is one South Africa's youngest national botanical gardens, it is home to hundreds of plants, flowers, birds and it even has a beautiful waterfall.
Consider taking a romantic stroll and then sitting down to a romantic secluded picnic in nature. You could pack all of your partner's favourite things, and pop the question in the open air, surrounded in beautiful nature with the birds chirping in the background.
5. Somewhere special in the Cederberg Mountains
The Cederberg Mountain Range is located near Clanwilliam which is approximately 300km north of Cape Town. The mountains are well known for their amazing rock formations and San rock art. It is a beautiful location, which feels like another world all together.
The Cederberg has an exceptional botanical diversity and is the perfect proposal venue. You will be completely spoilt for choice with regard to all the beautiful locations that you will be able to choose from. It will be very difficult for someone to say no, when surrounded by such beauty and tranquility.