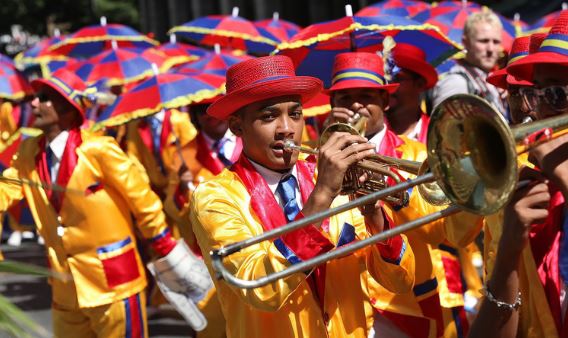 Human Rights Day; and many schools have decided to close on Monday, which means, it's a 4-day weekend.
If you haven't made plans for the weekend yet, here are some great things to consider doing:
1. The Cape Town Carnival
This hugely popular event always attracts Capetonians in their thousands.
So, join in with this showcase of Cape Town creativity and spirit on Saturday night, March 18, from 6pm.
Find your spot somewhere along the Cape Town Fan Walk route which goes along Somerset Road in Green Point.
2. Watch top-class international cricket
With a return to Cape Town after the three-year interruption caused by the pandemic, the Over-50s International Cricket World Cup is back!
See the world's best cricketers from yesteryear in action at various cricket grounds around Cape Town.
The tournament has already started, and we are now reaching the nail-biting games of the semi-finals, finals and Cup Finals – to be held on Friday, March 17; Sunday, March 19; and Monday, March 20.
The Cup Final on Monday morning (starting at 10.15am) will be played at the iconic Newlands Cricket Stadium. Entry is free, so it's a great way to keep the kids occupied if they don't have to go to school.
3. Wine tasting fun run in Durbanville
It's wine o'clock and we know how much Capetonians enjoy savouring the wines of our area. This weekend you can combine it with a bit of exercise and some fun?
Then head out to Bloemendal Wine Estate in Durbanville on Sunday, March 19, for a 5km Wine Tasting Fun Run, starting at 10am.
4. Increase your espresso-making skills
If coffee is your thing, you may want to become something of an expert. Join in for various courses that will allow you to hone your espresso-making skills so you can use your home espresso machine to its full potential.
Over the coming weekend, courses on offer include a Home Barista course and a Latte Art course – on Saturday and Sunday morning, respectively – at Origin Coffee in De Waterkant.
5. A musical soiree to enjoy the last of summer
On Monday, March 20, from 4pm until late, you can head out to Simon's Restaurant at Groot Constantia for their Summer Soiree. Enjoy the last of the sun's rays while listening to the great music on offer.
Besides the musical, the restaurant is a definite to explore, it's known for its unique design. Enjoy great wine and food while fine dining.
6. Wavescape Fun
Improve your filmmaking skills specifically relating to filming in the ocean at the Wavescape Wesgro Blue Ocean Masterclass for Ocean Filmmakers.
It's on Monday evening at 7pm at the premises of Invest SA, 46 St Georges Mall, in the City Centre.
Or, opt for a surfboard event; Board Meeting takes place on Saturday, March 18. Surfboard enthusiasts can swap and talk surf craft.
There will also be music and cold beers, including various local surf brands on display.
7. A theatre treat
Theatre lovers are in for a treat on Tuesday night. Head off to the Bishops College Memorial Theatre at 65 Campground Road, Rondebosch, for Shakespeare in Revue, a cabaret-style evening of entertainment which starts at 7.30pm.