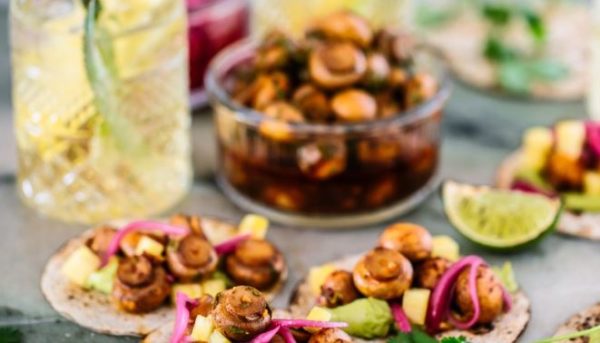 June 10 is World Gin Day, a day that celebrates a spirit that has been around for centuries.
We have also seen the popularity of the spirit grow over the past few years.
With that in mind, this day seems like the perfect excuse to celebrate the versatility of gin, so we have below beautiful and delicious cocktails for you to try at home this weekend alongside delicious dishes.
1. Bacon, feta and spinach stuffed portabellos
Ingredients
10 portabello mushrooms
250g streaky bacon
300g baby spinach
2 tsp butter
200g feta cheese
40g rocket
1 tbsp oregano, finely chopped
Olive oil
Sea salt flakes
Freshly ground black pepper
Method
Steam the mushrooms on a wire rack fitted into a large pot, for about 5 minutes. Remove and place on a cooling rack and allow excess liquid to drain.
Cut bacon into a chunky dice and fry until crispy. Add the butter and allow to caramelise and get a deep golden colour. Season well with pepper.
Remove the bacon from the pan and cook the spinach in the bacon fat for a few minutes. Season with salt and pepper and allow to cool slightly.
In a large mixing bowl add the crispy bacon bits, the cooked spinach, the fresh rocket torn into smaller pieces, the oregano and mix well. Crumble in the feta and give it a final toss.
Generously spoon the mixture onto the portabellos and serve straight away.
Gin pairing ingredients
50ml Mirari Amber Gin
Dehydrated orange slices
150ml tonic water
A few dashes of bitters
Method
Fill desired glass with ice and add the dehydrated orange slices. Pour in the Mirari Amber Gin and top with tonic water. Finish with a few dashes of bitters.
Note: A classic combination, the creamy and smokey flavours from the stuffed portobellos is well complemented by the sweet honey and orange notes of the Mirari Amber. The richness and deep flavours of this dish are cut by the refreshing and complex notes of citrus and rose.
2. Mini mushroom tacos
Ingredients
8 mini soft shell tortillas
Pickled red onion
½ pineapple, cut into small cubes
Fresh coriander
1 avocado
Tabasco, fresh chilli or your favourite hot sauce
2-3 limes
Sea salt
Freshly ground black pepper
250g baby button mushrooms
1 tbsp olive oil
1 tsp sea salt flakes
2 garlic cloves, minced
1 tbsp paprika
1 tbsp ground cumin
2 tsp onion powder
1 tsp garlic powder
Minced zest of 1 lemon
1 tsp freshly ground black pepper
1 tbsp chopped fresh flat-leaf parsley
Method
Place the avocado flesh in a small plastic jug. Squeeze in the juice of 1 lime and generously season with salt and pepper. Add a few dashes of your favourite hot sauce or half a fresh chilli. Blend with a stick blender until creamy and smooth. Set aside in the fridge.
Preheat the oven to 180°C.
In a large roasting pan, combine the mushrooms with the olive oil, salt, garlic, paprika, ground cumin, onion powder, garlic powder, lemon zest and pepper. Toss to coat and roast for 10 minutes. Toss with the fresh parsley as the mushrooms come out of the oven.
Grill or char the tortillas lightly on a griddle pan or over an open flame.
Assemble your tacos with a generous swish of guacamole, a pile of mushrooms, fresh cubes of pineapple, a few pieces of pickled onion and a sprig of fresh coriander. Fold up and enjoy.
Gin pairing ingredients
50ml Six Dogs Karoo Gin
Wedge of pineapple
150ml ginger ale
Method
Fill desired glass with ice and add a wedge of pineapple. Pour in the gin, top with ginger ale and garnish with a piece of the pineapple crown.
Note: Juniper notes from the Six Dogs Gin work well with the strong flavours from the mushroom tacos. Its added punch is a great balance to the tangy notes of the pickled red onion and the sweet hints from the pineapple. The Six Dogs' bold flavour is a perfect match for these tacos, the crisp and clean botanical notes in the gin complement as well as stand up to the spiciness of the food.