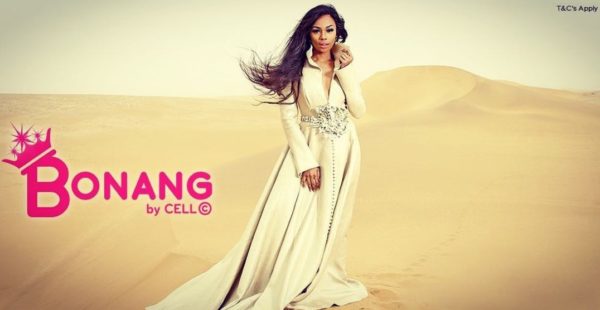 Bonang Matheba has launched her app in partnership with Cell C, giving Cell C subscribers free benefits, while other networks' subscribers get charged.
According to the info on the app, people will "get exclusive behind-the-scenes access and be part of her inner circle. See the world through her eyes and get the best stories, photos and videos directly from Bonang".
"Be the first to know all the latest news about Bonang's career and glamorous personal life; discover her favourite spots to eat, shop and hang out; learn about the products she loves the most; get inspired by her personal advice and tips; enjoy her favourite videos, handpicked for you; receive her latest social media updates, all gathered in one place; ask her any question and get a personalised answer."
To subscribe to Bonang by Cell C App, you will be charged R3 a day and R50 a month subscription fee for prepaid and postpaid customers respectively. Non-Cell C customers will pay a subscription fee of R60 a month. The first seven days are free.
Though some, such as Pearl Modiadie, have congratulated her on her new deal, some on Twitter have argued the Queen B is definitely living in her own world, where there is no recession. Being her fan is expensive, they argued.
They say the app is a waste of money, as she already has a reality TV show, a tell-all book and social media accounts she uses to update her fans.
"Bonang is pulling a Bushiri The Major 1 stunt with this R60 p/m app.. after A to B, failed to do the Job.. Baqede wena Queen B Banyis," said one of her followers.
"Her BMojis which cost R40 are not doing well. What makes them think this app will do any better. We are in junk status we don't have money," said another.
See more reactions below
So this is what y'all trinna do with y'alls lives with this Bonang app? ????????‍♂️????Why?????????‍♀️???? gotta stay woke y'all pic.twitter.com/yqLQg8Jhyz

— Human Child (@HumanChildd) August 23, 2017
A Bonang App? ???? we were never ready!

— @oh_my_kesh (@oh_my_kesh) August 23, 2017
The helllllllll. R60 for something that plays no role in my career or spiritual growth. Id rather spend money on substance. Bonang @CellC

— Zola Lasmisi (@zola360degrees) August 23, 2017
Trying to figure out how much it costs to be a Bonang Fan. Bmojis:R40
Cell C app:R90
From AtoB: R200
BeingBonang:R760 pic.twitter.com/q4ji5QnDtV

— Xolani Ndlovu (@XolanWaleKenhuk) August 23, 2017
My problem is not with bonang's ideas. Every entrepreneur has failed ventures. Problem is her handling of criticism, its poor.

— Stationery lady (@MissBee_the1) August 23, 2017
Yes,being @bonang_m's fan is expensive,but did y'all think about how she is giving back with her education bursary foundation? Bonang

— Hlonepho Phakoe (@pipozaire06) August 23, 2017
She personally wrote her book it's clear. She just said the content is absolutely free when it costs R60. Accent can't help poor grammar

— Patience (@patience_setati) August 23, 2017
No one collecting more L's than Bonang of late it seems

— Falooda Papi (@atishjogi) August 23, 2017
I once said that Bonang is building her brand on the Kim K business model and now with the release of the app I can say I am right pic.twitter.com/AqXyvWUwTh

— #Pisces (@Njabs_Madlala) August 23, 2017
I don't think anyone is hating on Bonang… I firmly believe in giving credit where it's due but come on… this is exploitation

— Ajna???? (@AnnDee_Truth) August 23, 2017
Has Bonang apologised first for her book ? Before launching an app ? pic.twitter.com/IDWHNxzYWf

— Noma. (@NormaarMsiza) August 23, 2017
R60 per month.On top of R160 monthly data.Aw Bonang mahn
this shows rich r getting richer while poor r getting poorer by enriching the rich

— ????Tiera???? (@_LadyTee91) August 23, 2017
Bonang tryna be Kim K hence the emoji, book, reality show, app, AKA tryna be Kanye hence the arrogance. won't work in Africa????

— lesley thindisa (@Les_youngrich) August 23, 2017
Tweep: Are you gonna download the bonang app
Me: *looks at my bank acc, airtime, sms and data balance" pic.twitter.com/Pk7Y4xmTql

— Nozy♥ (@Nozi_me) August 23, 2017
But also I don't even understand this app thing. The same thing on the app will be on Instagram and again on Being bonang #BonangByCellC

— Zuziwe khuzwayo (@Zuzie_K) August 23, 2017
"Chomie, Bonang has an app."
"Ya eng? Yao ruta English?"
????????????????????????????????????

— Minnie ???? (@Thu2khuzwayo) August 23, 2017
#BonangByCellC R60 nje just to know if Bonang udlile today? Haowa kudlalwa ngathi shem

— Mashosho (@akanigates) August 23, 2017
I think Bonang needs a better team.

— Palisa ???????? (@Phalesur_Says) August 23, 2017
no thank you, Bonang!! pic.twitter.com/H0w51i6jg1

— JerkOfAllTraits (@imotso22) August 23, 2017
Honestly if we don't get to see Bonang's natural hair and her without make up on that app it's not worth it pic.twitter.com/WZjQN5popN

— Lois Lane ✨ (@TheReal_Arzee) August 23, 2017
I love Bonang but R60 can buy me 2 Streetwise Twos. I'm not her target market???????????? #BonangByCellC

— Mikateko Baloyi (@lorriMikayB) August 23, 2017
Bonang is on self-destruction mode…

— Majolandile (@Siya_Lota) August 23, 2017