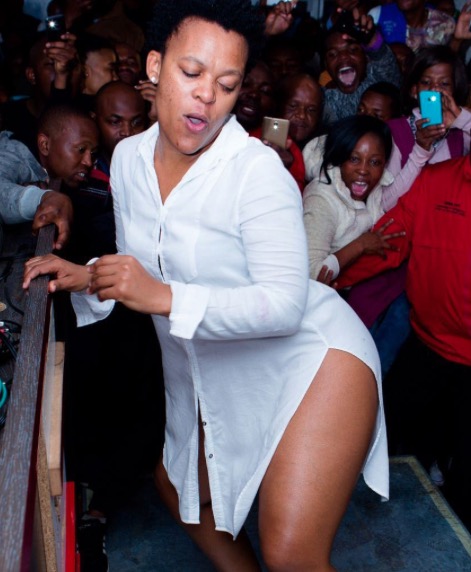 Tshegofatso "A$$Quake" Bonvica has been making people across Gauteng sweat with her pantyless twerking at hotspots around the province, and told TshisaLIVE that it was time Zodwa moved over to give fresh blood a chance.
"I am the new Zodwa. We need new blood to come into the game and bring new moves. I am not trying to come for her, I am just trying to dance. We both dance without panties but I don't wear it because it is uncomfortable to wear panties while I am twerking. The thing is the media was focused on her and not me. Now is my time to shine."
A$$Quake quit her job a few years ago to go into dancing full-time and apparently pulls an impressive crowd.  At R20,000 an appearance, she is collecting coins quicker than Mario. But Zodwa is not impressed.
Speaking to TshisaLIVE, Zodwa said that at first she was chilled with A$$Quake doing her thing but after the dancer claimed she was better than her, it was time for the gloves to come off.
"People must do their thing to get money but they must not use my name or think they are better than me. I hate that she thinks she must replace me. That is her mistake. I am Zodwa. No one can replace me. She thinks she is better than me? She is lost and must go bother someone else. She can go 'be better', but we know the truth."
Zodwa said that many other artists, including dancer Skolopad, had tried to snatch her crown but she was "the only one still standing".
"Everyone said they are better but I am still here. Just like Skolopad, they claim they are the new Zodwa but they can't compete."