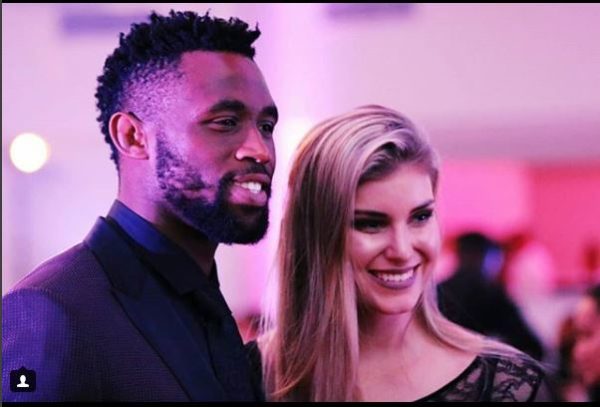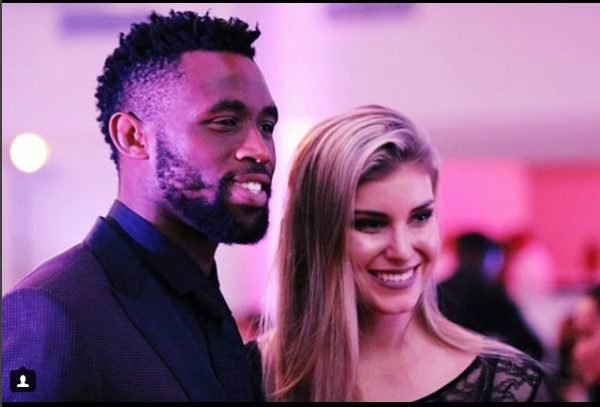 Racheal Kolisi's love and protective act in regards to her husband Siya Kolisi as made people tag her as an insecure wife, though months ago she refuted the claim.
Recently, she found a fan named Zuki, who took snaps with Siya and called him baby. Rather than acting up on social media she just shared an emoji which fans deduced as fan's(Zuki) thirst for her husband.
As tweeps realized silence on Rachael's part, they decided to defend her in their best ways.
I really feel bad for Rachél kolisi they provoking her constantly!! Imagine a girl calling my husband "ubaby" mina I'd lose it shame baby wamasimba!!! Public figure or not, can't y'all just respect people's marriages ? pic.twitter.com/JYoniThvfI

— African Unicorn (@asanda_tee) September 18, 2018
You guys don't respect Rachel Kolisi and are probably bitter that a black man chose her (a white woman) . I'm more than certain that if some sleazy girl in her 20s was doing this to Shona and Connie Ferguson you guys would be up in arms in Connie's defense. Nimunu rubbish.

— Gold (@RoseGoldNC) September 18, 2018
The way people make sexual comments about Kolisi and paint Rachel as an insecure wife when reacting to those comments…SMH. res ?pect?other?people's ?marriages ? pic.twitter.com/LfH0zPVSKC

— ?Cristina Yang of Law ?? (@madiba_obakeng) September 18, 2018
This is not right. Siya Kolisi marriage is very important to his wife. Y'all saying Rachel is overreacting? Most of you would've acted the same way. … pic.twitter.com/m7cpBHmuJt

— ELTON SHONHIWA (@Elton_Shonhiwa) September 18, 2018