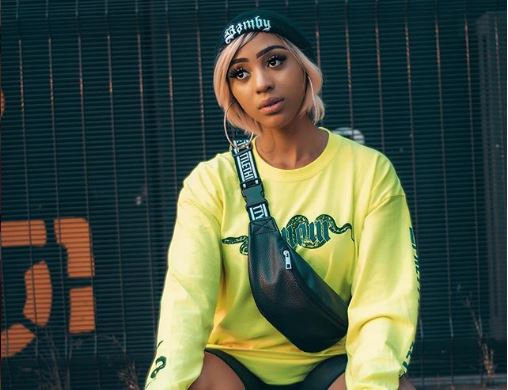 Rapper Nadia Nakai just dropped her new single titled Yass Bitch with an amazing cover where she wore wig next to wig off. Before the release of this hit, most fans had a music thirst for the song as many pre-ordered the song. Yass Bitch has attracted mixed comments from listeners. Some tagged it a twerk anthem, a dope song while others flooded her page with the lyrics of the song.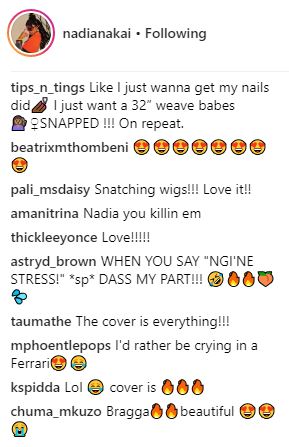 Amazingly,some tweeps thought otherwise. Some jested on the wig off she did, while others said it was a horrible song. Nadia was advised to change record label and a troll said she stole the chorus. Tweets be like;
What do you think of Nadia Nakai new single? #YassBitch

— Garvey (@iAmKingducer) September 21, 2018
Horrible horrible horrrrrrrrriiiibbbleeeeeeeeeee

— Reign Supreme 💋 (@Tndee_Ndee) September 21, 2018
She should just find a new label. This family tree thing ain't working

— Ntando #TMB (@JustNtando) September 21, 2018
It's Ok, A bit disappointed though.
The bars are there, but not really hitting the spot!

And the nicki comparison is just trash!😥

— Naphakade Neps Ntamo (@Naphakade_n) September 21, 2018
Its trash😑

— Issakiky👀 (@Wynet0247) September 21, 2018
And she stole the chorus and its still wack

— RoryMo (@Roryy_sang) September 21, 2018

Fans did not go easy on her as it was said she wasn't creative enough.
Creativity is not easy, please compare Nicki Minaj – Yass Bish & Nadia Nakai – Yass Bitch.
It's too similar!!!@SAHipHop247 @sahiphopstories @SAHipHopMagcoza pic.twitter.com/MOQhOA9bub

— BigMouthZA (@bigmouthza) September 21, 2018