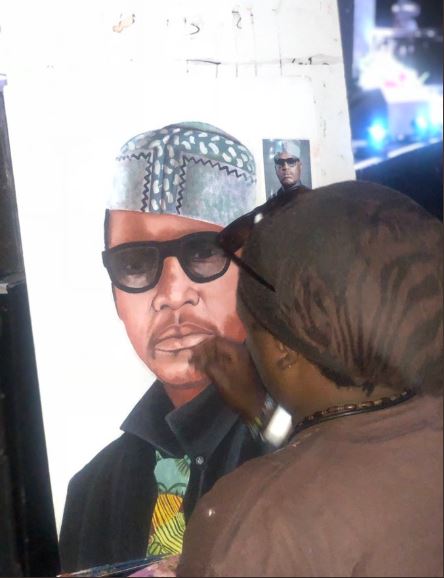 Rasta's effort over HHP's painting have being condemned and attracted trolls on him. He got the social media booming with doubts if he truly was in his right mind drawing Jabba.
The Celebrity funeral artist Lebani Sirenje have always trended during funeral services of late celebrities as fans are not always impressed by the outcome of his paintings.
Tweeps be like; 'Rasta needs to be arrested'. 'We all know weed is legal in South Africa but can someone stop Rasta please, he can't be disrespecting HHP like this'. 'Rasta has to change his dealer, whatever he is smoking is too strong for him…' and lots more.
Read more words that kept Rasta in heat over Jabba's painting;
I didn't know HHP looked so much like Gxabhashe #Rasta #HHPMemorial pic.twitter.com/7bv2vQEfU2

— Luyatsha Flames (@luyatsha_flames) October 30, 2018
Guys why is this Rasta being the only one chosen to draw our late icons? Is he the only artist in SA? Why is he drawing @LuloCafe instead of HHP? #HHPmemorial pic.twitter.com/HzHa6vuh4t

— PABLO 👑 (@Wonderb32) October 30, 2018
Rasta must be jailed, this needs to stop.#HHPMemorial pic.twitter.com/KV0lYemya7

— SiyandaCalvinNtenga (@Ntenga3ZN) October 30, 2018
We all know Weed is legal in South Africa but can someone stop Rasta please. He can't be disrespecting HHP like this. #HHP #HHPMemorial pic.twitter.com/0zhf7xcrvk

— Man's Not Barry Roux  (@AdvBarryRoux) October 30, 2018