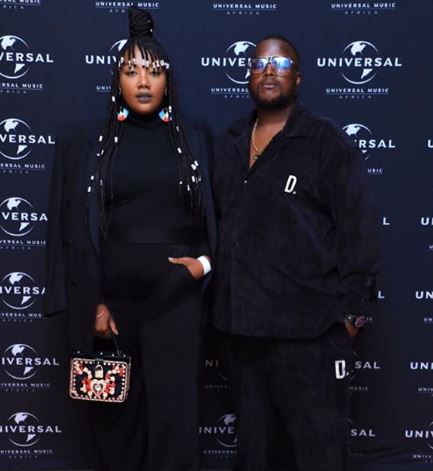 Late HHP's wife, Lerato Sengadi has got more news on her trending as her first alleged act after the funeral service has gone viral on social media. HHP's funeral burial was held on the 3rd of November and before that, HHP's family and Lerato have being to court over denying Lerato the right of being Jabba's wife. The judges conclusion on the case, however favoured Lerato as she was declared a customary wife to the late music icon despite HHP's father disclaim.
Two days after HHP's burial it's being said that Lerato kicked out her son and Jabba's house-help out of the house and change the house locks.
SowetanLIVE has it that Lerato allegedly took over the matrimonial house she shared with HHP in Randpark Ridge, Johannesburg.
Tsambo family spokesperson Nkululeko Ncana told the paper. "Lerato came around 1am this morning [Sunday] and broke the locks. She locked out the helper and her son who have been living there since 2004."
Nkululeko, who is apparently HHP's cousin, updated more ongoing events on Twitter.
However, Lerato is mute over these allegations.
You speak with such confidence. Not everything is what it seems. Do you know that he went for regular drug screening that turned up negative for cocain among others? Ask her why she really left the house and wouldn't come back even after his family begged. Relax. https://t.co/JasAjcBioa

— NkululekoNcana (@NkululekoNcana) November 3, 2018
Did you read her court application? She says she left the house because he refused to go to rehab. I'm saying not true. I'm talking what I know to be fact. But these facts will be ventilated at the appropriate time. https://t.co/Uhm3wGxzwt

— NkululekoNcana (@NkululekoNcana) November 3, 2018
I'm on record saying that the affidavit accompanying her application is riddled with deliberate falsehoods. She knows she's lying. https://t.co/k47jS8yRX0

— NkululekoNcana (@NkululekoNcana) November 3, 2018
Barely hours after his father's funeral, #HHP's son has been illegally booted out of his father's house after instructions were given to locksmiths to move in between 12midnight -1am. #CustomaryWife

— NkululekoNcana (@NkululekoNcana) November 4, 2018
It's true. I was at the house. https://t.co/4C8LSMnjG1

— NkululekoNcana (@NkululekoNcana) November 4, 2018
She's now reduced #HHP's teenage son to a homeless boy. I fetched his clothes and school books outside the house. Now what? This is what it's about. Nevertheless, the boy will be back home soon. It's illegal occupation. #CustomaryWife https://t.co/JasAjcBioa

— NkululekoNcana (@NkululekoNcana) November 4, 2018
A case of breaking and entering has been opened with Honeydew police station. #HHP's son's stuff outside, amongst the stuff is his school uniform and books. #CustomaryWife sent some heavies with questionable hygiene habits, and the cops saying we're trespassing! pic.twitter.com/ZTvi44lnhT

— NkululekoNcana (@NkululekoNcana) November 5, 2018
With due respect, we're u there when the so-called "bad treatment " took place? Why is it that there were no witnesses to this despite the fact that the house was opened to the public to mourn and give family support? https://t.co/l7ucPTV4yy

— NkululekoNcana (@NkululekoNcana) November 5, 2018
He's my nephew. Hope that's a good enough reason to? https://t.co/43CNcHVh4G

— NkululekoNcana (@NkululekoNcana) November 5, 2018
Sadly, it's the person who hasn't lived there and refused to for many months that has now locked out someone who lived there everyday with his dad. It's a fact. https://t.co/zSTOxub0gd

— NkululekoNcana (@NkululekoNcana) November 5, 2018
You're at liberty to find other sources and corroborate my information. You can start by calling the Honeydew police station and verify whether a case of breaking and entering was opened. Then call #CustomaryWife and as she Didintle break locks at 12midnight. Take it from there. https://t.co/AvQoCAwHw3

— NkululekoNcana (@NkululekoNcana) November 5, 2018