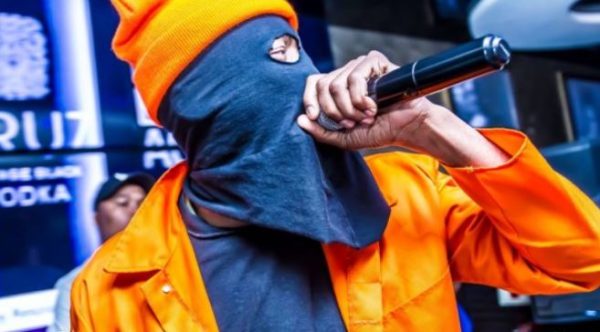 Mzekezeke was denied access into SABC building despite he was there for an interview. The singer was told to reveal his identity by taking off his signature which was his mask but he refused. This act of his' denied him access into the building by the security personnel.
DJ Sbu who has always been connected to Mzekezeke, shared a clip of the Guqa Ngamadolo hitmaker trying to enter the SABC premises in which he is denied access.
In regards to this case, DJ Sbu told TshishaLIVE that: "We said that we, as a record label, will send an email to the SABC to take up the matter because Mzekezeke does need the SABC. It is a broadcast hub. We have a great relationship with the SABC and we don't think it was anything malicious. I just think it is protocol and they didn't want to get in trouble. What if someone says 'Why did you let a guy with a mask in here? What if he was coming to rob people."
However, Mzekezeke was able to do the interview via phone but it wasn't a nice experience for him at the building.
Sbu added; "They said he must go into a room and take off his mask so that they could see who it was. Mzekezeke said that he doesn't take his mask off for anything. They were calling me because they thought it was me (behind the mask). He later had to do the interview via telephone."
Most fans supported SABC security personnel because of safety and security reasons, it was needed that he took of his mask.
BREAKING NEWS! SABC Security personnel refuses Mzekezeke entry into the SABC!!! pic.twitter.com/JS1HtwMUm8

— #Beautiful (@djsbu) November 12, 2018
For security reasons those security are 100% correct, u cnt allow sme1 to enter in a business building wthout identification. Its worse now S.A. is not safe, 4 goods records of Risk management company safety policies u cnt hide your face. We know Mzaks is been no where 4 a while

— SINE__JUTA (@Tau_Jenis) November 12, 2018
You can never know if it's Mzekezeke for real or a robber, best if one stays away for safety reasons

— In|connu (@TheRealMotswana) November 12, 2018
SABC studios are a national key point. Unidenitified persons cannot be allowed to enter. It has nothing to do with the personality but everything to do with protecting the integrity of public broadcasting. What comes out of those studios goes to all RSA's & must be checked

— AudibleSilence (@SaneleMakinane) November 12, 2018