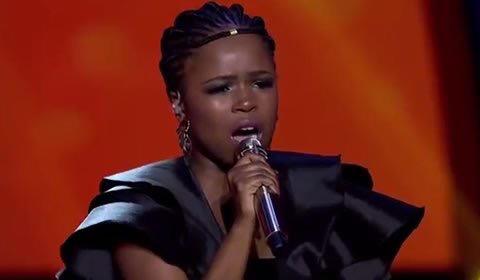 Idols SA winner has being declared to be Yanga after a thorough process to get the winner for the competition.
The 17 year old who performed alongside AKA on the last day got her name trending on social media.
Observing tweets on social media, Yanga seems to be the peoples choice, as people who could not watch the episodes joined in celebrating and congratulating her for her win.
The Idols SA 2018 winner has being described as SA's Beyonce. Fans speaks of her amazing talent and how destined she is for big things, even if she wasn't the winner.
Tweeps reactions be like:
#Yanga trully deserverd this, what an amazing talent @ProVerbMusic thank Idols #IdolsFinale

— QueenB (@MissB_Herself) November 18, 2018
Let me join the masses in congratulating #Yanga. I don't watch idols but from what I hear she deserved it. #IdolsFinale

— Mhlengwe. ???? (@HumbaM_17) November 18, 2018
#Yanga I haven't watched a single episode of idols but tonight watching Yanga sing that single I felt like I already knew the song and not in a bad way. Her delivery of the song. Wow sisi uphiwe. Please don't die after this competition.

— lisa ndzamela (@lisa_ndzamela) November 18, 2018
I will say this again, Yanga won Idols season 14 on this day ? Congratulations young lady ur talent is amazingly beautiful #Yanga#IdolsSA pic.twitter.com/ryKGdecR97

— Thapelo_Thap's sa (@thapelomalebo) November 19, 2018
ICYMI: Both Yanga and Thato are super talented but in the end there could only be one idol. #Yanga#Thato #idolsfinalehttps://t.co/33NRmNomCy pic.twitter.com/aJpGhPJdwY

— Tinotenda Maveneka (@iamkoffee_) November 19, 2018
#Idols, our own Beyonce. #Yanga. Beautiful Song.

— Gibsy Diale (@sibudiale) November 11, 2018
Weather she wins IDOLS or not, she is destined for big things.#YANGA.IDOLS

— OneMoreDanceOUT!! (@KobusDEEJAY) November 11, 2018