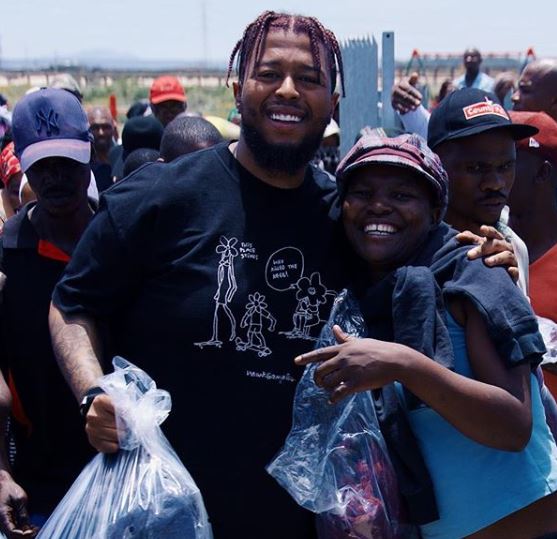 Anatii helps Khayelitsha fire victim with relief materials. After the fire incident, over 4,000 people were left homeless.
The rapper gave out blankets and cloth packs to 450 household which turned out not be enough. He was saddened seeing them homeless.
However, he said what he did wasn't enough but urged South Africans to help and visit the Khayelitsha fire victim.
"RECENTLY VISITED ABANTU WHO WERE AFFECTED BY #KHAYELITSHAFIREAND IT BROKE MY HEART TO SEE OUR PEOPLE LIVING LIKE THIS. CHANGE STARTS NOW! WE WERE ABLE TO HELP AT LEAST 450 HOUSEHOLDS WITH BLANKETS AND CLOTHING PACKS BUT THAT'S NOT ENOUGH! SOUTH AFRICA WE NEED TO COME TOGETHER AS A COUNTRY AND DO MORE FOR OUR COMMUNITIES, I URGE EVERYONE TO BE THE CHANGE THEY WANT TO SEE. THANK YOU TO ALL THE AMAZING PEOPLE WHO CONTRIBUTED AND MADE THIS POSSIBLE!" Anatii said.
With so much joy and humility, Anatii shared the relief materials and took snaps with some of the fire victim.
View this post on Instagram
Thank you @ANATII together with your foundation for gracing Khayelitsha today & doing your #CountryDuty

Special shout out to @zibonelefm98 for covering today's event. @Tothembi @MissGcilishe we can't thank you enough for being there pic.twitter.com/dxM4fj1CLH

— Tumi Sole (@tumisole) November 25, 2018