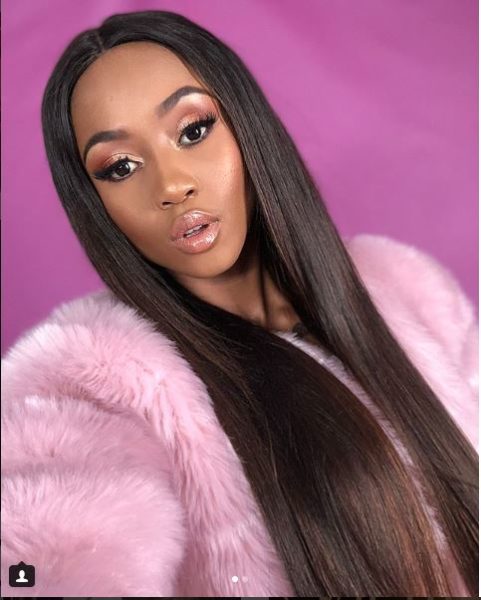 SA rapper Nomuzi Mabena, popularly known as Moozlie left South Africans in tears while she got into a car crash video.
The rapper was about announcing her 2019 plans in a video while driving, when the sound of tyres screeching can be heard and viewers get a glimpse of a cracked windscreen before the video cuts out.
This incident left her friends and fans in fear as to whether she's dead or alive.
Some of her celeb friends shared videos of themselves in tears desperately wanting to know if she's okay.
However, not a single word is yet to be heard about Moozlie, as her PR team refused releasing any comment about the matter.
Though, some fans took to social media saying it was a staged accident done by the drama as it isn't real.
Somehow a part of me is telling me the Nomuzi accident could an arrive alive campaign. Well I hope it is #Akulaleki #PrayForNomuzi https://t.co/JgvisWvfXe

— Siyamthanda (@Ms_Menisi) January 10, 2019
Worried tweeps be like:
Very theatrical crashing sound and awkward silence following.

In a normal accident; there'd be more noise, screaming, skidding, screaching and tumbling of things (including the phone) #moozlie #nomuzi #Logicalsense #Experience pic.twitter.com/YW1MBg6XCK

— CLEME_CLEMS® (@ClemeClems) January 10, 2019
For those asking, this is the video currently trending. #Moozlie #Nomuzi pic.twitter.com/2jPZaRAYuL

— Curate_Zed | Ricky (@Curate_Zed) January 11, 2019
Is this the same Jackie Phamotse the "author". Aowa.😳 #Nomuzi #Moozlie #PrayForNomuzi pic.twitter.com/WXwDHCamKM

— Pootie Tang (@Mdudemeister) January 10, 2019
Guys listen has anybody been able to get ahold of @NoMoozlie ???????? I'm so scared! Please let me know If Anyone can reach her????????????

ASAP PLEASE! pic.twitter.com/dcFYGSUE1S

— Rouge (@Rouge_Rapper) January 10, 2019
If its a campaign, its one triggering and violent AF campaign. That kinda stuff should be banned. There are many ways of educating the nation. Some of us are left here shook and worried. #Nomuzi

— Siyamthanda (@SiyaNyulu) January 10, 2019
That Nomuzi video got me heartaches like she's my sister , I'm so traumatized I wish I didn't see it #PrayForNomuzi pic.twitter.com/ipSG6EGsT5

— ludu_blaq 🇿🇦 (@Zenani_Manqele) January 10, 2019
The whole #Nomuzi thing doesn't add up. Publicity stunt, witchcraft, aii it's alot. Where are pics of the car? Who is this Jackie Phamotse? 🤔 pic.twitter.com/cB5UIK60oS

— 💖Sunshine🌻🌟 (@Lilly_Mosetlha) January 11, 2019
Waiting for the "I told you it was a campaign" brigade later. #Nomuzi #PrayForNomuzi pic.twitter.com/cTJ9RsIr9t

— ⌚👔Junior👑👣 (@MalcolmJR13) January 10, 2019