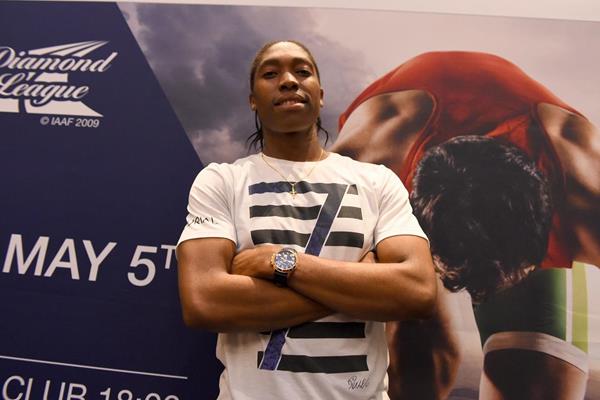 Katie Hopkins successfully gained SA celebs attention after tweeting about SA athlete Caster Semenya.
The 2016 Olympic Gold Medalist is fighting a IAAF proposal that would lure her taking medication to lower her testosterone levels before she will be allowed to further compete as a female.
Katie tweeted about this and furious supporters of Caster dragged the English media personality on Twitter.
Celebs like Bonang Matheba, Lerato Sengadi, Robert Marawa and many others reacted furiously.
Fuck what they all say!!! #CasterSemenya WE ARE WITH YOU ALL THE WAY!! WE LOVE YOU!!!! DO NOT COWER!! #IWillNotCower pic.twitter.com/qyxHNMrY1i

— Lerato Sengadi (@Leratolicious) February 18, 2019
Olympic champion Caster Semenya arrives at tribunal in Switzerland for a landmark case that will challenge how many testicles you can have to compete as a WOMAN in Olympic sport. #CasterSemenya pic.twitter.com/J7Z36qfwbd

— Katie Hopkins (@KTHopkins) February 18, 2019
This attention seeking bumbling fool still seeking attention!! Glad ur castration was a success Katie!! ✌?

— robertmarawa (@robertmarawa) February 19, 2019
I feel sorry for you Katie. You need prayer. https://t.co/qicXxSNBod

— Bonang B* Matheba (@bonang_m) February 19, 2019
The fight for freedom transcends racial issues, it's more than about the colour of ones skin, it's about the freedom to be who you are without discrimination. As a nation, it's our duty to stand by #CasterSemenya just as she has stood by us & represented us with pride globally pic.twitter.com/2xCirZQ4gw

— Min. Nathi Mthethwa (@NathiMthethwaSA) February 19, 2019
Fuck you Katie https://t.co/Mbc7RO6fj7

— Pabi Moloi (@PabiMoloi) February 19, 2019
Fuck you Katie https://t.co/Mbc7RO6fj7

— Pabi Moloi (@PabiMoloi) February 19, 2019