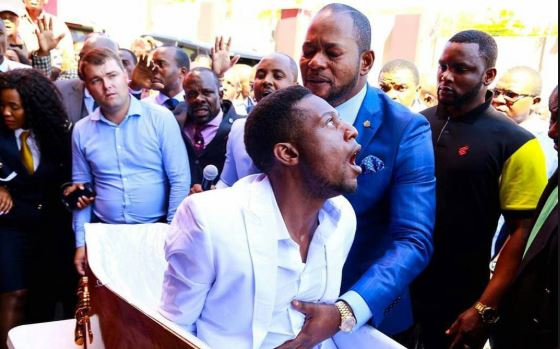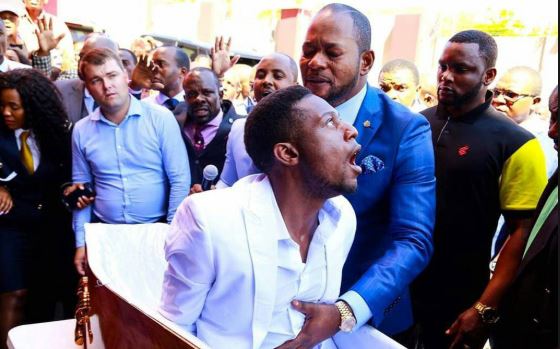 South Africans have gotten the hashtag Resurrection Challenge trending over a week after news of Pastor Lukaku resurrecting a dead man went viral.
Funny videos have since gone viral replicating the resurrection video in a hilarious manner.
However, while the ressurrection video attracted negative and positive reviews, another SA pastor with the name Pastor Mboro dragged Lukaku by laying fraud charge against him. Mboro went as far as praying on his kneel in public for his co servant of God.
Pastor Mboro praying outside Pastor Lukau's church "God forgive fake pastors" pic.twitter.com/Os9tNMAdUD

— Nomsa Maseko (@nomsa_maseko) February 28, 2019
In case you missed the viral video of Lukaku ressureccting a dead man, here is it:
@SolomonAshoms here's the video of Pastor Alph Lukau of Alleluia Ministries International Johannesburg raising a dead man in a coffin today..Was the man really dead?…..Watch it and let me know what you think 🙂 pic.twitter.com/QQia0hr5L5

— Khanyi Ndabeni (@ndabenik) February 24, 2019
Funny tweets and video #ResurrectionChallenge be like:
Even the chickens are participating ??? #ResurrectionChallenge pic.twitter.com/HNzGIYifh0

— @Philani_Zungu01 (@Philani_Zungu01) February 25, 2019
All South Africans right now?#ResurrectionChallenge pic.twitter.com/5Pk6Kcizso

— Derrick Ashimwe (@DerrickAshimwe) February 26, 2019
Thanks to Pastor Clement I was risen! #ResurrectionChallenge pic.twitter.com/ROfopjKVVp

— Mr TT to you! (@iamtsoeu) February 25, 2019
Ikorodu Boys finally took up the #ResurrectionChallenge.

This would blow your mind… ? ? ? ? ? ?

. ???? pic.twitter.com/QFm4oMlTk9

— Tosin Olugbenga (@TosinOlugbenga) February 28, 2019
Guys you must understand these kids don't wanna be left behind…maybe along with their teacher ? #resurrectionchallenge pic.twitter.com/nL9Ro2n6HV

— Gift_Cr7 (@giftsmutumbi) February 27, 2019
So the pastor who claims he went to heaven; took pics IN heaven; AND slayed satan, is calling out the pastor that "resurrected" a dead man??? #YouCantMakeThisShitUp pic.twitter.com/KzcnJOcQQP

— DJ Fresh (Big Dawg) (@DJFreshSA) February 28, 2019
He is eating his funeral food
?????? pic.twitter.com/OfprO8CGo4

— Gordon Ramaphosa (@Ngiya_Hlanya) February 25, 2019
#ResurrectionChallenge Zodwa wabantu gave us a signal. pic.twitter.com/pmYFnaDw6A

— ??Sphamandla Lawrence (@_SphamandlaM) February 25, 2019
@TrendingSAon3 he even has a cellphone in his jacket ????#ResurrectionChallenge pic.twitter.com/WiCHa9W4xl

— Mama kaJunior (@thembimatipira) February 25, 2019