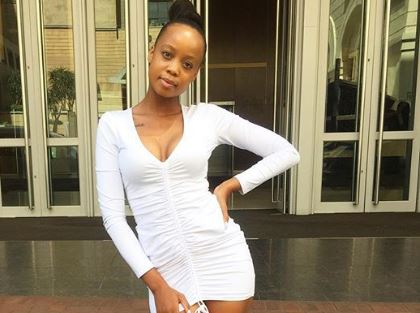 Ntando Duma defends her daughter, Sbahle Mzizi against cyberbullying as she confronts the troll face to face.
The mother of one narrated all that happened when she met the troll and adviced that peeps should stop hiding behind their keypads. Though, the troll apologized.
Here is what happened:
Sbahle's Dad, Junior De Rocka participated in the hashtag #WhatItMeansToBeAFather by sharing snaps of himself and daughter. But a baby shamer saw the post and commented that Sbahle doesn't look like she costs R20,000 (jesting Ntando's child maintenance claims.)
However, Ntando didn't let loose of her guard by having a face to face talk with the internet troll.
"So, I "bump" into him today and ask him to say what he was on about on Twitter yesterday and he fails…"
"Instead he says I'm your fan of your work [sic]" spare me!! NGITHE: Say the exact same words you were making a noise about on Twitter for those couple of RTs and hahahas, uBhuti wenu FAILS!"
"Y'all are actually uncouth for thinking cyber bullying, dragging and trash talking INNOCENT people is cool. Next time I "bump" into another one of your "social media heroes" NGIZOK'TRAPA UNHANJELWE INQONDO! Try me and Good Luck"
Ntando added; "Most of you hide behind the keypad and can hardly say all the BS you say on Twitter and think we'll never find you! #NeverTakeMeForAPoes."
A short story: Most of you hide behind the keypad and can hardly say all the BS you say on Twitter and think we'll never find you! #NeverTakeMeForAPoes pic.twitter.com/ggbuDJBjWw

— Ntando Duma Mthomben (@dumantando20) March 5, 2019
Instead he says "I'm your fan of your work" ?? spare me!! NGITHE: Say the exact same words you were making a noise about on Twitter for those couple of RTs and hahahas, uBhuti wenu FAILS!

— Ntando Duma Mthomben (@dumantando20) March 5, 2019
Y'all are actually uncouth for thinking cyber bullying, dragging and trash talking INNOCENT people is cool. Next time I "bump" into another one of your "social media heroes" NGIZOK'TRAPA UNHANJELWE INQONDO! Try me and Good Luck❤️

— Ntando Duma Mthomben (@dumantando20) March 5, 2019
Just few days back, a hater said to the baby daddy, Junior, that his daughter, Sbahle ain't cute. He responded:
"God made my baby to look like this. She many not be cute to u n that's okay. Imagine if all of us looked the same… imagine if every human being was so negative n evil like u bashing toddlers online. How nasty would the world be?! I love my daughter n she looks cute to me."