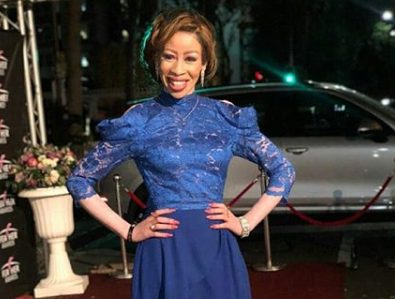 TV and Radio host, Refilwe Modiselle calls out Dove on latest ad featuring a woman with albinism.
Dove launched a campaign to break down stereotypes around beauty and it was their decision to include a model with albinism in the advert for the campaign which drew the attention of Refilwe who is also with albinism.
Seeing the advert on Twitter, the radio personlaity immediately reacted and dished out her view.
"I don't mean to burst your bubble Dove but people with albinism can't exactly use Dove soap. So why would you advertise for a group that can't use this product. It was never albinism inclusive because its not made for albinism skin. In fact I've used it & NO its harsh for us." Refilwe tweeted.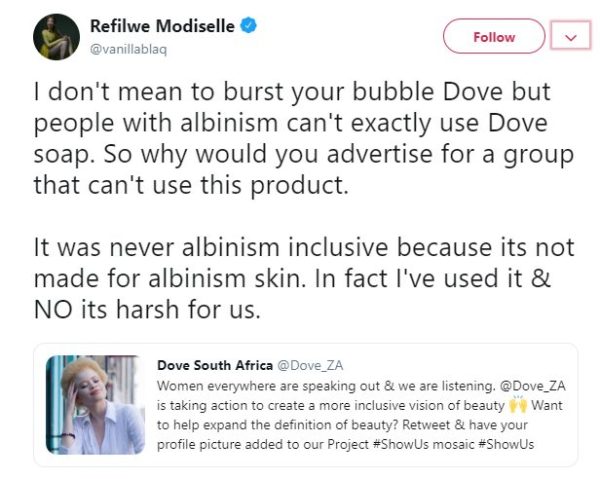 Speaking with TshishaLIVE, she said:
"It is not a product catering for us. They may say [it's] for sensitive skin, but the truth of the matter is that we are not really meant to use soap. From an early age, you are told to use aqueous cream and stay away from products that can be harmful or harsh."
"You can't use someone living with albinism to endorse something that is not good for them. It is misleading because a woman with albinism will go to a store and say, 'I saw Dove is good for my skin,' when it is a known fact that we are not supposed to use it."
"There are no actual over-the-counter products [for people with albinism]. The lightest thing you can use is an aqueous bar. It is a bar version of aqueous cream. Skin is a whole other level of sensitivity. If Dove was releasing a product and said it had been tested to be safe to those living with albinism, it may have been a different story."