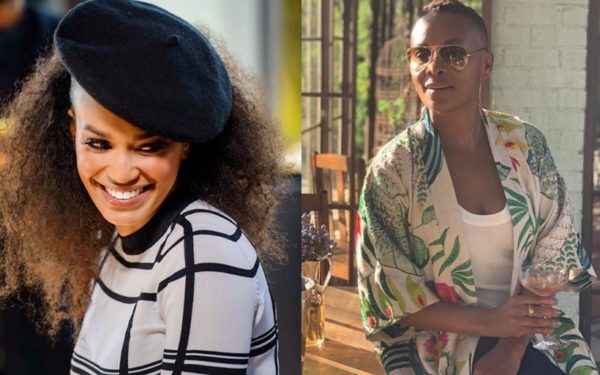 Colourism fight between trolls and celebrities is almost summing up to a week but while we thought it's all going to end with Pearl Thusi's talks another heated twar rose between the thepian and Bonnie Mbuli.
Both are actresses and of different skin colours which made the twar more heated.
Bonnie said she almost sympathized with the light skinned girls but then she remembered that the black girls suffer more especially in films.
"So when a light-skinned actress complains about the one or two roles they didn't get because they weren't dark enough, I'm like but the part your crying about was being the slave who gets raped and beat up in the thing, people who look like you have never had to be in that position to begin with," Bonnie wrote.
Bon's tweet stung Pearl as she(Pearl) perceived she was being attacked as a light skinned girl.
The rants upgraded to a heated twar.
Check out tweets from both actresses here: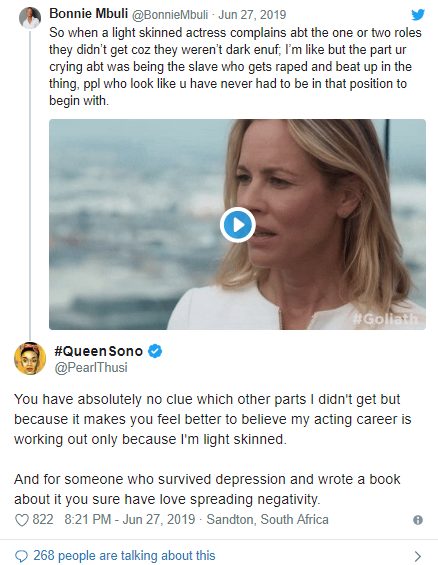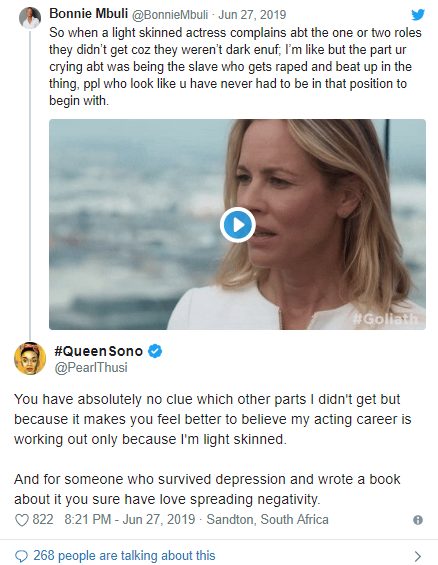 This woman acting like she paid taxi fare to my auditions and knows my whole life LMAO.

— #QueenSono (@PearlThusi) June 27, 2019
Pearl, this isn't about you, you can't place yourself at the centre of such a huge issue, it can't be reduced to a twar, I don't know your shoe size but if you feel like it fits, then wear it ! https://t.co/IOa2sc8fLT

— Bonnie Mbuli (@BonnieMbuli) June 27, 2019
Enough with the martyrdom Pearl, I was talking about actresses, angaz' ukhuthi ungenaphi! https://t.co/8ixoY7XSgB

— Bonnie Mbuli (@BonnieMbuli) June 27, 2019
Lastly.

I lot of actresses are also upset because God keeps choosing me and they believe I'm not worthy.

I know how much more talented u believe you are. All the whispers always make it back to me. I know who u are & I know what u've said. I smile & pray God blesses & heals u.

— #QueenSono (@PearlThusi) June 27, 2019
Sisi has in her mind has reduced me to a nameless "light skinned actress" . That's all she sees. My colour. Can't even acknowledge my name.

Imagine I had said dark skinned actress. Yall would destroy me.

This is very personal. She has no respect for me. Yesses.

— #QueenSono (@PearlThusi) June 27, 2019
In this industry we tell the stories of the people you say have no range for this conversation bonnie. Dnt let your hate for me make you drag other people down.
We tell their stories. It hurts to listen to their opinions sometimes I know.
However she wasnt attacking u personally. https://t.co/W4TFM3clvf

— #QueenSono (@PearlThusi) June 27, 2019