Radio personality Anele Mdoda shoots fire at Phat Joe and also took time to trace back his ugly history.
Anele's anger was triggered on Wednessday after Phat Joe allegedly said on air that: "Anele Mdoda's appointment as Miss SA 2019 judge panel is affirmative action, just to balance the equation, she knows she doesn't deserve the position, how is she gonna justify her judgement."
In series of tweet, Anele dragged Phat, saying she's got lot of data and time to troll him back for his words.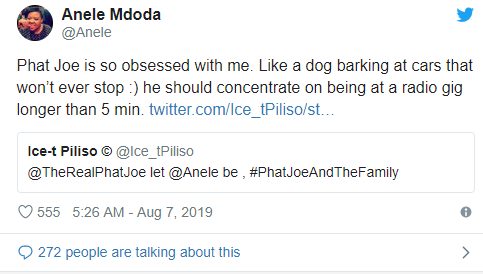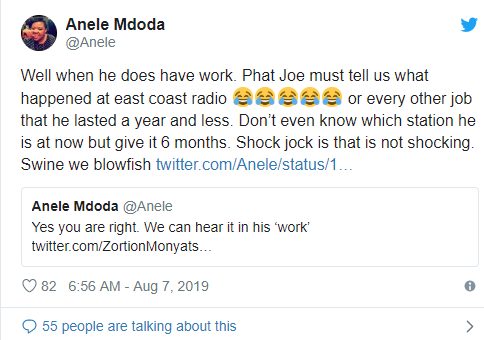 "I am not even done. I have all day and all the data. He must not try me. Mister make tv productions wait for three hours whilst he walks off set. Where is his dating show ? Why is he not on it ? Angazondi nyela mna. Going at gays because they are strong enough to live their truth," she added.
Also Phat Joe I have judged Miss SA for 4 years now and picked a damn Miss World. My beauty has nothing to do with whether I can see beauty or not. Do me a favor and say that shit to my face the next time you scrape an invite to something relevant.

— Anele Mdoda (@Anele) August 7, 2019
He has PTSD from being out smarted in ownership of his show from looooooooong ago. Can he give us a TED TALK on that. Even now when you say Red Pepper he shakes likes a Polaroid picture. At the very least he kept his American accent.

— Anele Mdoda (@Anele) August 7, 2019
This isn't the first time. He is so obsessed with me. Well he can have all my attention. I can teach him how to prep a real radio show. He has forgotten https://t.co/vsT0aNmwpI

— Anele Mdoda (@Anele) August 7, 2019
Shock jock !!! Let me show him shocking !!!

— Anele Mdoda (@Anele) August 7, 2019