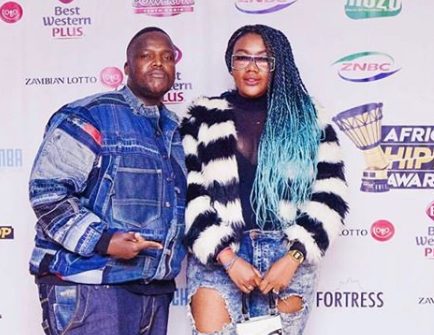 Lerato Sengadi narrates in a lengthy form on the traumatic experience had with the ring given her by late husband, HHP.
Lerato had dark clouds over her since the death of her lover who is iconic in the music industry.
Relating her traumatic experience, the star revealed that the ring signifies HHP's presence but she realized the ring slips of her finger as it fits no more.
"A few weeks ago I had something traumatic happen to me. As mundane as it may have seemed it was super shocking and heart breaking. I woke up one morning, got ready for work & as I was putting on my beautiful ring that Motho gave me it literally slid off my finger. Like slid all the way off! My once perfectly fitting, specially selected, symbol of love had now become so big that if I wore it I would definitely lose it. I stood there and looked at my naked ring finger. It hit me like a ton of bricks that I can no longer wear my ring. I already knew that it couldn't be resized because of the design but the reality of it was so painful to accept."
"My heart, body, mind & spirit had been battered so much in a short space of time that that moment became a physical manifestation of my reality. My Motho isn't here. His physical symbol of love could no longer be a daily part of me. Ouch!"
"I put it into the back of my mind and focused on work. It wasn't until I went to visit Reason (to meet Hip & Hop for the first time ❤️) that it really hit me. I stood there crying in front of him (also not for the first time… I guess my spirit feels free enough around him to just be free to feel what it needs to feel in that moment. Motho felt the same about him actually??… anyway…). I got home that evening, prayed and went straight to bed."
Lerato said it was heartbreaking but she overcame the traumatic feeling afterwards and was gifted a new ring by someone else.
"But guess what? The next morning I woke up. I actually woke up. I didn't die. I survived yet another traumatic experience which was a byproduct of a larger traumatic experience. I thanked God for strength to try again that day. See! We are strong! We are survivors! Celebrate your victories. No matter how small and mundane they may seem to others. You were strong enough to survive life's daily lashings. And THAT makes you more magical than any unicorn could possibly be! @jennaclifford_sa somehow caught wind of this and sent me the most beautiful ring. Delicate yet strong… just like me. Thank u Jenna." Lerato added.
 

 

 

View this post on Instagram