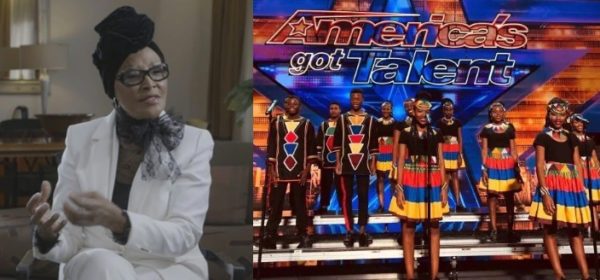 SA TV veteran Felicia Mabuza-Suttle gave the Ndlovu Youth Choir motherly love and hope ahead of the American's Got Talent finale.
Felicia had promised the choir that if they made it to the finale, she's will give them some mzansi motherly love and she did.
"Congrats Ndlovu Youth @ChoirAfrica! I said that when you make it to the finals, I would bring you some #MML– #MzansiMotherlyLove. I kept my promise. Thank you for sharing our true spirit of #ubuntu with the world! Good luck tomorrow in the finals! Your are winners already!" She tweeted.
The group will go up against nine other acts in tonight's finale after getting a standing ovation from the judges in the semi-finals for their rendition of Steve Winwood's Higher Love, which was also covered by Whitney Houston.
The group also assured the whole of mzansi that they would be dishing a mind blowing performance.
Felicia's visit to the choir is quite touching and brought some viewers to tears.
Watch videos below:
#AbantwanaBethu!
Ndlovu Youth @ChoirAfrica shared their time in the US. But regardless of where you come from, home is where the heart is. They are relishing the glitz and glamour of #Hollywood but longing for the dusty streets of #Limpopo. Love their spirit. @NathiMthethwaSA pic.twitter.com/KwmZAYcvmS

— Felicia Mabuza-Suttle (@Feliciamabuza) September 17, 2019
Our @AGT final performance is on Tue 17:00 PST (Wed 02:00AM SA time). We're giving everything to take our performance to the next level, the hours of rehearsals are paying off big time! We can't wait to unleash our energy & excitement. #agt ???????❤️?? pic.twitter.com/wAy3VM34IH

— Ndlovu Youth Choir (@ChoirAfrica) September 15, 2019