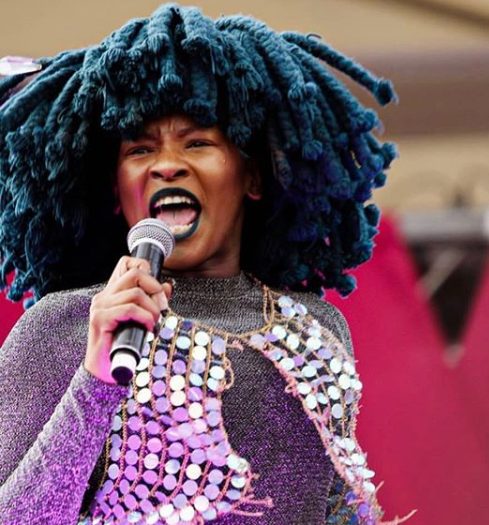 Moonchild Sanelly trends on Twitter over a twerk challenge she started but it's attracted mixed reviews.
The gqom queen is known to always flaunt her bum. Most times, she goes to the extent of pulling off her pant just to show off her bum while twerking and she's explained that she does all of that based on self love.
Speaking to her fans whom she refer to as Boombeams, Moonchild explained the inspiration behind the challenge.
"Let's own our bodies and celebrate them by damn ourselves!!!!" She said.
#MOONCHILDCHALLENGE
Twerk on ur bed! Let's go boobeams! This is my everyday!!! Twerk twerk twerk twerk???????
Had to post an example of what should be done! Let's own our bodies and celebrate them by damn ourselves!!!! pic.twitter.com/XThSdV5U1B

— Moonchild Sanelly (@Moonsanelly) September 16, 2019
Reactions from social media users be like:
Hayi Moonchild just saved the world with this challenge. We Stan a Queen?. #MOONCHILDCHALLENGE pic.twitter.com/DYNznv1V9G

— Bubuh_?? (@SibuyiseloNtuli) September 16, 2019
I just believe during this period – we need responsible content.

Moonchild is being irresponsible because nigga's always want to see bums and with South Africa's rape culture there's a nigga looking at that clip and thinking about his next victim.
#MOONCHILDCHALLENGE

— Wandile Cindi (@WandileCindi) September 17, 2019
Lol only MoonChild got the ballz to do the #MOONCHILDCHALLENGE so niggaz just chill it ain't happenin… ? pic.twitter.com/7lQY50TFRM

— LORD ? IGGY (@Tswebedengs) September 17, 2019
If it was beyonce saying do it, american girls would've blessed the TL, mara hayyi bo mabena ????? #MOONCHILDCHALLENGE pic.twitter.com/pZAcLkJrZV

— Mpiti Mosothoane???? (@Jiggaaa_7) September 16, 2019
Get off my time line if ur one of those society imprisoned thinkers! Stay there and leave us free birds to live and celebrate our own bodies!
Asobwabe
Now bye as I twerk to shoot another twerk video ?????? https://t.co/FCE4xtrVRU

— Moonchild Sanelly (@Moonsanelly) September 17, 2019