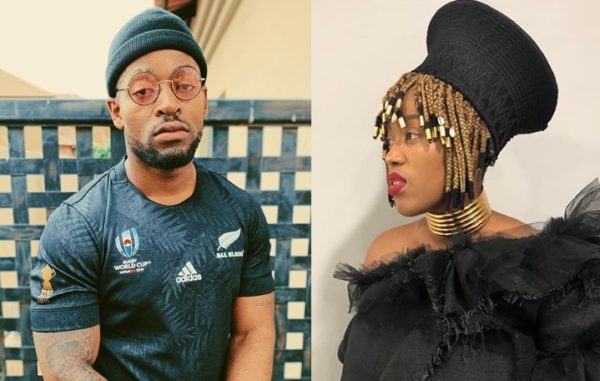 Prince Kaybee finds himself in trouble for not crediting Msaki after bagging the Best House Record of the year with the song Fetch Your Life with Msaki at the South African Dance Music Awards which occurred yesterday, 3rd of October.
An appreciation speech was dished out both at the event and on the DJ's Twitter page but the singer's name was mute which led Twitter users to an angry space with Prince.
Many assumed it's the DJs style of not acknowledging features and Msaki also tweeted about the negligence saying:
Not everyone sees the need to acknowledge their collaborators ??‍♀️ https://t.co/GGCsinV4tT

— Msaki (@Msaki_ZA) October 3, 2019
But honestly if I did this for recognition or acknowledgement i'd be dead by now #reachesforguitar

— Msaki (@Msaki_ZA) October 3, 2019
Sure I'm cool with the benefit of the doubt. No mention of my name on written post or a tag. Maybe he forgot or ran out of characters ??‍♀️ So much going on in the world … https://t.co/NyitYsds9Z

— Msaki (@Msaki_ZA) October 3, 2019
The streets also dragged Kaybee in tweets.
Yaz acknowledging someone does not take anything away from you or change your bank balance, Prince kaybee gadidi Yaz. Msaki played a very huge role in that song. She made the song, she is the song yet he failed to acknowledge that ? ? pic.twitter.com/Bhtur71EH3

— Vuyiswa Mzinyathi ?? (@vuyiswa612) October 4, 2019
Look at the difference, Black Coffee won album of the year and tagged all that he collaborated with on the album. Both Prince Kaybee and his manager didn't bother to mention Msaki for a song which Msaki is actually the vocalist on it. Andidikwe ??? pic.twitter.com/aRNzQT8JRo

— Zₑₑ (@Zethu1119) October 4, 2019
Lets cancel prince kaybee for not acknowledging Msaki on the win of 'Fetch your life' pic.twitter.com/FSo3SN2qds

— SHUGA (@Znvy_ia) October 4, 2019
Prince Kaybee is narcissist that exploits upcoming artists but it's all good now coz he releases music and gets booked so he'll not get off his high horse. One day the well will run dry & he'll realise he's been an arse when he's got no one by his corner.

— His Excellency (@eemz_siphiwo) October 4, 2019