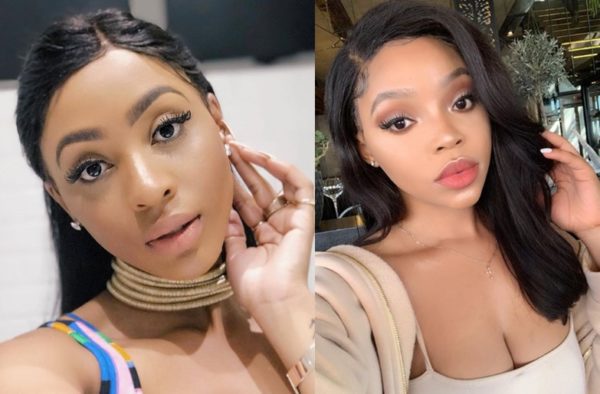 Award-winning rapper, Nadia Nakai defends rising rapper, Faith Nketsi against cyber-bullies.
Faith's rap game was dragged on Twitter, and most of her lines were jested at also.
However, Nadia acted a sister's keeper as she shut down hate.
"Y'all really need to stop this hate train on Faith, it's her first project… allow her to grow dammit!!! She's just starting… y'all can be so mean!!! Women are such an easy target for y'all on this app… sick of it. Stop," Nadia tweeted.
All I'm saying is women can be so quick to bring down other women… which really sucks… she's trying something new, she will grow and get better… people need to relax… https://t.co/Uzg5J3IxvZ

— #NadiaNaked (@Nadia_nakai) December 6, 2019
Anyway I just don't like seeing anyone getting dragged… not cool… this app can be so toxic sometimes…

— #NadiaNaked (@Nadia_nakai) December 6, 2019
A tweep told Nadia that it was all criticism and not hate, but the rapper perceived all as bully. Though, Nadia ain't against a constructive criticism.
Constructive Criticism is good, but that's not what I was reading.. it was jokes for retweets… I don't know Faith like that, but that shit can be demotivating, If she's really bought it, I hope she sticks with it and works on it… https://t.co/Ua6y7j6Ydk

— #NadiaNaked (@Nadia_nakai) December 6, 2019
The good thing about starting low is the only way to go is up… good things take time… https://t.co/5cvhiYh2rW

— #NadiaNaked (@Nadia_nakai) December 6, 2019
Anyway I'm done, having this convo on the wrong app…. ✌🏾

— #NadiaNaked (@Nadia_nakai) December 6, 2019
Just be nicer to people… or atleast try!!! Side note Propaganda is such a lit venue!!!! 🔥

— #NadiaNaked (@Nadia_nakai) December 7, 2019
The deejay booth literally moves up and down! What a vibe!!!

— #NadiaNaked (@Nadia_nakai) December 7, 2019