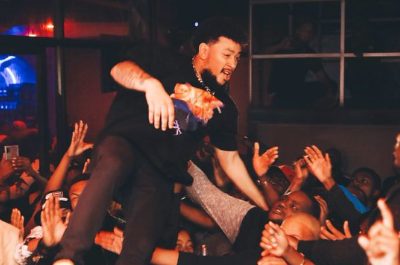 AKA became a topic among fans after a failed crowd surfing while performing in Rustenburg.
The rapper was definitely fun drenched and when he thought it was the perfect time for his fan to get more fun by touching him, he fell to the ground and was on the floor for about 5 minutes.
Supa Mega reacted to the video saying "shit happens."
😂😂😂😂😂 shit happens. https://t.co/nvFKdlxVqM

— AKA (@akaworldwide) March 2, 2020
However, he crowd surfed the second time and he was caught, but the major highlight was the fall which got lots of tweeps talking.
😂😂😂😂😂 at myself. https://t.co/yXlT9lFj74

— AKA (@akaworldwide) February 24, 2020
Check out reactions below:
I stayed down there for a good 5 mins 😂😂😂 https://t.co/FsRzZ1ddXY

— AKA (@akaworldwide) March 2, 2020
Yeah I figured fuck it, I'm down here … might as well perform on the ground. https://t.co/1wlaQkfGch

— AKA (@akaworldwide) March 2, 2020
To be fair I got back on stage and did it again. This time they caught me and everyone was happy and stuff. 😁 https://t.co/HX4zRKlT58

— AKA (@akaworldwide) March 2, 2020
I would have left immediately 😂 https://t.co/UTHEnT6JZu

— AKA (@akaworldwide) March 2, 2020
The phone generation isn't here to catch things falling from the sky but to record them. 😂😂😂

— Cadre Chiefs✌️ (@_Naivete) March 2, 2020
I will DEFINITELY do it again. 😆 https://t.co/eIy1zRnFvG

— AKA (@akaworldwide) March 2, 2020
Just watched that video properly. That shit low key hilarious. TF was I thinking?! 😂😂😂😂

— AKA (@akaworldwide) March 2, 2020
The fact that @akaworldwide continued singing while he was on the floor, that can never be undone. That is a fighter, a legend, a true artist!!! "You win some, you lose some"💫 #Nokuthula #Kiernan

— Justrare_official (@ningow29) March 2, 2020