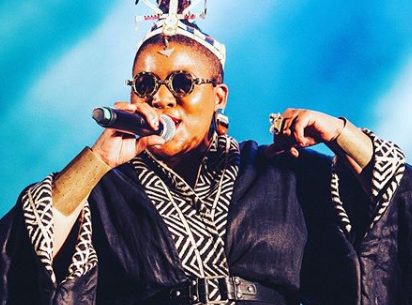 King Tha, who goes by the name, Thandiswa Mazwai speaks to fans about the impossibility of an online concert.
The singer further revealed that if the pandemic continues, artists are going to loose everything.
Speaking about her present situation, King Tha is surviving on savings for a recording budget, hence, no album drop this year.
"Do you guys realize that we probably won't have live gigs for atleast a few more months? Artists are gonna lose everything. Right now I'm living on what I had saved for a recording budget so if you don't see an album for another few years it's cos I'm saving," she said.
King Tha added, "By a few months I mean several! I'm expecting gigs to only start next year sometime. We can go virtual but ah so lonely."
Gigs will probably start again next year. Artists are fukhed! https://t.co/isBIHgXVkN

— KingTha (@thandiswamazwai) April 27, 2020
By a few months I mean several! I'm expecting gigs to only start next year sometime. We can go virtual but ah so lonely.

— KingTha (@thandiswamazwai) April 27, 2020
It's okay for artists who are supposedly rich, which trust me is not me, but for artists who really struggle and for bands it's gonna be hell. The stress has already started. Corona yarebulaya.

— KingTha (@thandiswamazwai) April 27, 2020
I'm not taking the risk of bringing my band to my house ??? lockdown ereng?! https://t.co/oYqYL0LRKT

— KingTha (@thandiswamazwai) April 27, 2020