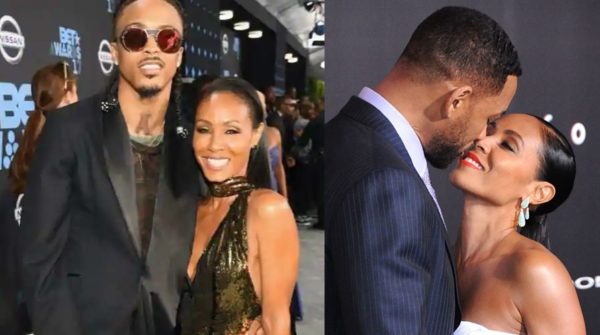 The viral word, "Entanglement" tops different country's trend list after Jada Pinkett used it while speaking to her husband, Will Smith on her Facebook show Red Table Talk.
The actress confirmed rumors of her affair with rapper August Alsina, claiming they had an entanglement.
"I got into a different kind of entanglement with August," Jada revealed. "It was a relationship, absolutely. I was in a lot of pain. I was very broken. In the process of that relationship, I definitely realized you can't find happiness outside of yourself."
However, you should always trust social media users; Most people are now using the word for fun and it's gone viral beyond imagination.
See how tweeps used their new favourite word:
#entanglement is for rich people, wena wa feba pic.twitter.com/h8FifYWGTH

— JOBE🛡 (@Juks_Afrika) July 11, 2020
Word of the week "Entanglement".

— ONE BY ONE MUSIC VIDEO OUT NOW ❤️ (@Rouge_Rapper) July 10, 2020
My new status RN 😂😂

#entanglement pic.twitter.com/pea63Jkmvf

— Becky 👅💦 (@fairest_becky) July 11, 2020
Jada: i didn't cheat it was an #entanglement

Fuck boys: New vocabulary pic.twitter.com/ylxXLxmkvi

— Nigel Vincent (@NIGELVINI) July 11, 2020
So when female gender cheats, it is called "entanglement" we learn everyday.#entanglement

— Mister Ajibola 🧢 (@_starbiola) July 11, 2020
This jam is 🔥🔥🔥. I think it needs a rap verse though#ENTANGLEMENT with #AugustAlsina pic.twitter.com/kfhfoamFVT

— Josh (@chigoziiem) July 11, 2020
Me Practicing this New Word #entanglement 😭 pic.twitter.com/dVcI74NxOP

— UFOTOON1 (@ufotoon1) July 11, 2020
Black Twitter trying to figure out all the ways they can use "entanglement" to get out of messy situations.#entanglement pic.twitter.com/97oA3rDlAx

— Pet Wisdom for Life (@SDWisdom) July 10, 2020