The hall of Sinenjongo High School in Joe Slovo, Milnerton was consumed by flames on Wednesday morning.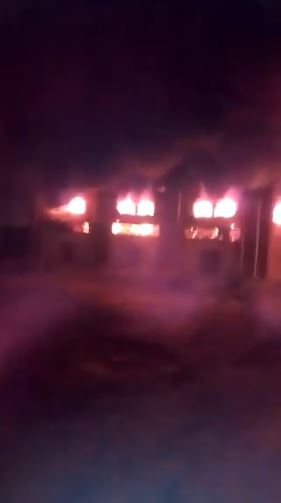 The hall built just four years ago was set on fire amid rife Cape Town protests.
Sadly, Sinenjongo High School in Joe Slovo Park, Milnerton is not the only school in the area that encountered vandalism, a classroom and the library at Marconi Beam Primary School were also torched on Monday night.
According to the police, the violent protest ravaging through the Western Cape started on Sunday allegedly over service delivery.
The new facility that was officially handed over to the Western Cape Education Department (WCED) on 28 October 2016 boasted top-quality accommodation for 1,250 learners, as well as sports fields and other amenities. The provision of the school excited the members of the community.
See video below:
Sinenjongo High School, Cape Town😡😡😡😡

"Let's destroy some more infrastructure cause Western Govt will just rebuild. "😡😡😡😡 pic.twitter.com/8PpyGa2uL4

— Ricardo Mackenzie (@ricardomackenzi) July 22, 2020
Western Cape Education MEC Debbie Schäfer has condemned the destruction of schools, especially during the pandemic.
"I condemn in the strongest possible terms the wanton destruction of two schools in the Du Noon, Joe Slovo area in the past two days. These disgraceful acts of thuggery will do even more harm to our children's education at a time when teaching and learning is already difficult," she said.
She also said this will affect the department's budget and indirectly affect other schools.
On Wednesday, Western Cape police said the protests resulted in damage of several properties but, 20 suspects have been arrested for public violence as police responded to series of incidents in Kraaifontein on Wednesday afternoon.