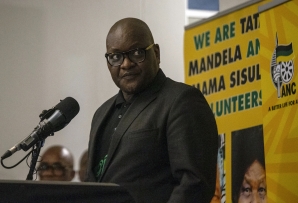 The South African National Civic Organisation (SANCO) wants Gauteng Premier David Makhura to resign.
The ANC aligned organisation is accusing Makhura of poor leadership amid alleged PPE (Personal Protective Equipment) tender corruption in the province.
It says Makhura shouldn't have appointed Transport MEC Jacob Mamabolo to temporarily lead the provincial health department, adding Mamabolo has no medical background.
SANCO is further accusing Makhura of hiding corruption in his office.
Makhura is yet to respond to the allegations brought before his table.
---
 Coronavirus Hotline Number: 0800 029 999 from 8am to 4pm, Monday to Friday
Help protect your loved ones by sharing this official South African government COVID-19 service with your family, friends and community.
Send HI to 0600 123 456 on WhatsApp.
The NICD has another Clinician Hotline to improve #COVID19 communication and support for healthcare providers. The Clinician Hotline is 0800 11 1131, operating 24 hrs. The Public Hotline is 0800 029 999 also operating 24hrs.