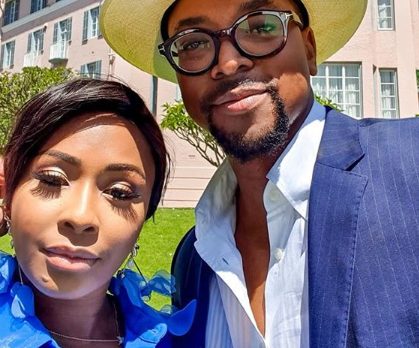 Maps Maponyane and Boity Thulo are rumored to be in a romantic relationship but none of them has come out to say if its true or not.
However, a lot has been going on between these two most especially when they shared snaps of themselves together on social media, it sparks dating rumors.
Also recently, Boity posted on social media stating who her type of man is and also indicating wealth must be part of the list.
Then, Maps Maponyane quickly said he's up for the challenge.
Even after all these, none of them have come out to say what the real deal is.
Maponyane also featured in Boity's reality TV show, Own Your Throne and the two seemed very cozy.
Maponyane took to Twitter and replied Boity who had posted a tweet about one of her running sessions.
Maponyane wrote "Boitumelo, I'm not much of a runner but trying to get into it more now, so seeing as we're both doing it, how about we spend the month doing it for a good cause and hopefully challenge others to join in as well?"
Boitumelo, I'm not much of a runner but trying to get into it more now, so seeing as we're both doing it, how about we spend the month doing it for a good cause and hopefully challenge others to join in as well?🏃🏾‍♀️🏃🏾‍♂️ https://t.co/sjefdR0Afn

— Mr. Buns/Buns Out/Abuti Buns/Lebunza/Breadwinner (@MapsMaponyane) August 8, 2020
Boity also replied Maponyane by saying: "You're amazing for this, Masego! I would more than happy to do it! When do we start?!"
With this, it became really suspicious as their fans feel the duo are a "thing"
Read some of the tweets below:
Bayajola..

— Brighton Dube (@Brighton_dube20) August 8, 2020
@pashay_m This is me giving up 🤦🏾‍♀️Never will you ever hear me going on and on about Maps…The crushingment ends here shame😭 He must "do it" with Boity,I have accepted failed dreams😂😂 (But atleast it's with Boity😋My favorite queen) …Im still hurt though…It is what it is 😓

— Mia (@purple_mia1) August 8, 2020
When he called her by her full name "Boitumelo"🥰, that's when I realized that yah ey he has found the one🥰 pic.twitter.com/UcHmuGTywR

— yongezwa monakali (@YongzLaMonkz) August 8, 2020
Lmao is this your way of shooting your shot?💀

— 𝐋𝐚𝐧𝐝𝐢 𝐌𝐧𝐠👑🧚🏾 (@MissArmandy) August 8, 2020