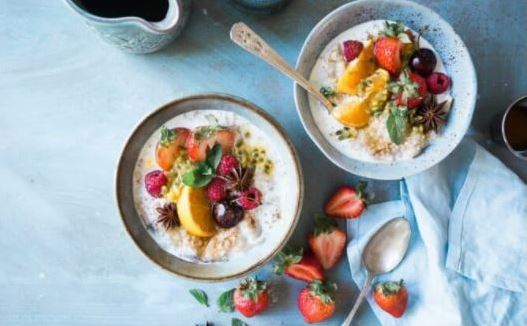 There's no doubt about it: breakfast is a smart way to get your day off to an energetic start!
What young entrepreneur doesn't need more energy? We are all looking for that boost – but rather than ordering a larger coffee or grabbing an energy drink why not eat right in the first place?
We all know how important breakfast is but what you pick to eat also determines how you will feel the rest of the day. Those who skip breakfast usually do so for the same reason: they don't have time.
But when you see these quick healthy breakfast recipes, you'll want to make the time! These delicious breakfasts are not only packed with nutritious energy, but they're ready in minutes – and will keep you powered throughout the day.
So, without further ado, here are the 7 healthy breakfast ideas to energize your day!
1. Baked eggs skillet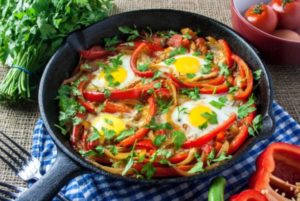 Packed with protein, this breakfast hits all the right spots! It's super easy to make and full of healthy fats and minerals, including magnesium, potassium, and calcium. Eggs supply a good dose of protein and polyunsaturated fats, as well. The whole family will be asking you to make this every morning!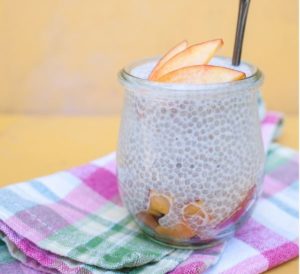 Rich in omega-3 fatty acids, protein, and fiber, this is one pudding you won't want to miss! Best of all, the chia seeds contain up to three times the calcium of a serving of milk. They're also a fantastic source of mucilage, which helps to keep your digestive system in good order. And this breakfast dish can be made the night before!
3. Berry yogurt smoothie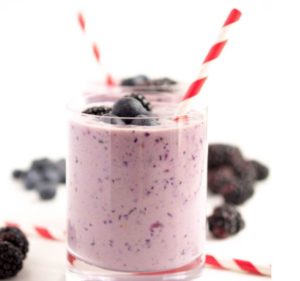 The breakfast you can take anywhere! This smoothie delivers the antioxidant power of berries and the probiotic goodness of yogurt. It has loads of fiber, vitamins and protein – but it's also gluten-free! You can even use dairy-free yogurt to suit. With only five ingredients, it's one of the easiest breakfasts in the book.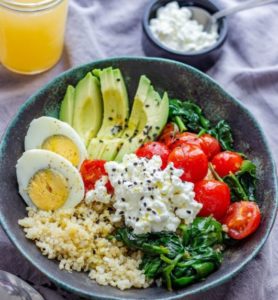 Anything goes with this savory breakfast bowl – and it can be thrown together in five minutes! Prepare the cooked ingredients in advance and you've got a plateful of nutrition worth waking up for. Avocado and egg deliver healthy fats and protein, and quinoa is the perfect grain-free energy booster.
5. Fruit and cheese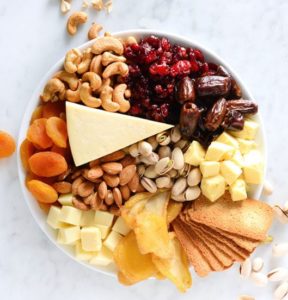 So easy it's almost embarrassing – but you'll win points for healthiness! This breakfast can be thrown into a bag and eaten on the way to work or school. With fruit, cheese, and a handful of nuts, you've got protein, healthy fats, and fiber in seconds. Keep a few ready-made in the fridge so you can reach for them on your way out the door.
6. Magical blender muffins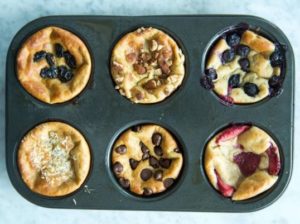 Get creative with your blender and whip up a batch of blender muffins! There's an endless variety of blender muffin recipes trending on social media right now, which basically means you can't get them wrong. Let your imagination run wild with combinations of whole grains, eggs, fruits and yogurt. Top with nuts, seeds, or berries – and bake!
7. Cheesy spinach baked eggs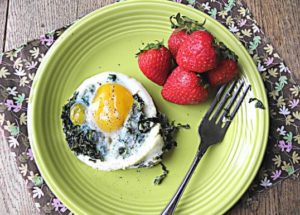 These look tricky, but they're far from it. They're ready in a snap, and they'll get your day off to a protein-filled start! With eggs, spinach, and cheese combined in a neat little ramekin, even the fussiest kids will want to eat their veggies. You can even leave out the cheese if you want them to be dairy-free – the baked eggs alone will still be delicious!