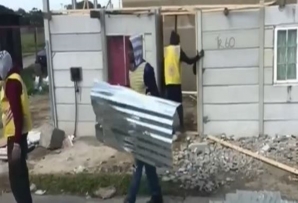 On Monday, an 8-year old boy from Elsiesriver died from a gunshot.
Just last week, a little child of about the age of 9 years from St Helena Bay, got injured and died after.
This happened during a protest and a similar occurrence took place a week before, when a teenage girl died following a shootout by residents in order to halt the demolition of structures in Kraaifontein.
According to a report, community members decided to stop the activity of Human Settlements Department from demolishing a local house.
This led to a conflict that ensued between law enforcement and residents.
The 8-year old boy, named Clarence Solomon, just got back from school and got hit by a stray bullet. He gave up the ghost right on the scene.
Patrick Wence, Range community leader said:
"Law enforcement with the authority of the council decided to demolish the house and then there was a whole commotion between community and law enforcement."
"The police started shooting and then, unfortunately, gangsters got involved and there was cross shooting between police and gangsters."
Reports from the City's Safety and Security Department mentioned injury of 46 officers on duty while responding to violent protests in the confines of Cape Town last month.