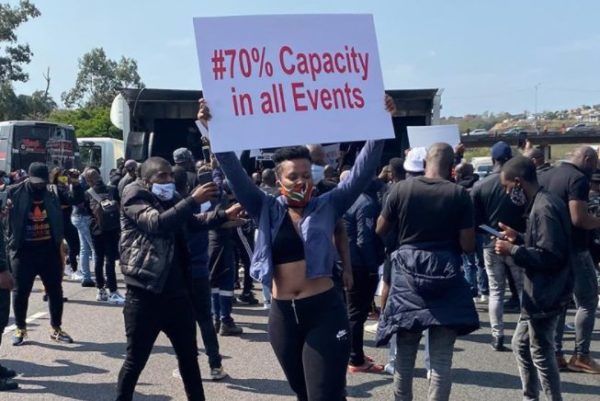 This morning, artists blocked the N3 in KwaZulu-Natal protesting for lockdown regulations linked to music events to be reviewed.
These group of artists wants the restrictions to be eased because the pandemic hit them hard and has hindered their means of livelihood.
They complained that the current restrictions are affecting their industry negatively.
They however suggested that events should be allowed with only 70% in attendance.
The complaining artists decided to block the N3 road and staged a mini-concert there.
The police arrived the scene and dispersed the crowd with with stun grenades and rubber bullets.
Thirty-five people were arrested so far following the protests on the N3 near the Pavilion shopping centre in Durban.
eThekwini metro police spokesperson Parboo Sewpersad said, "I can also confirm that six vehicles have been impounded, including two trucks."
"I can also confirm that the roadway has been opened."
N3 Durban closed in both directions. Reports say some musicians are staging a protest. They say lockdown regulations are affecting them. pic.twitter.com/5uKz9mryZN

— Yusuf Abramjee (@Abramjee) September 2, 2020