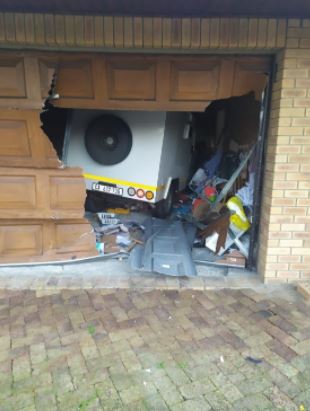 On Thursday, a cash van landed inside a residential property after its driver tried to escape from robbers in Welgelegen, Cape Town.
Unfortunately, the van driver died of gunshot wounds.
According to images posted on twitter, it showed that the van crashed in the house's garage and broke its wooden door.
It stopped moving inside the garage.
Police explained how the cash van security guard and his colleagues got attacked.
"Unknown suspects shot and killed the security guard who was waiting in a cash transporting vehicle," said Brig Novela Potelwa.
"He had driven away after being shot and crashed into a nearby home," said Potelwa.
The same gang also shot another guard who was at the entrance to a store.
The armed gang attacked as soon as the guards arrived to pick up cash from the store.
"A substantial amount of cash was taken as the suspects fled in a black Corsa and a white VW Golf GTI," said Potelwa.
The black Corsa which they used was reported stolen in Khayelitsha in June.
Potelwa said a case of murder, attempted murder and business robbery was being investigated.
Cash van ends up in a garage! Awaiting more info. pic.twitter.com/nxUs7q9EDP

— Yusuf Abramjee (@Abramjee) September 3, 2020