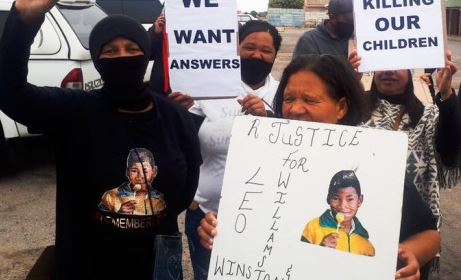 St Helena Bay community of Laingville have come out to get answers surrounding the death of nine-year-old who was hit by stray bullet during service delivery protests last month.
They gave SAPS a memorandum demanding justice for murder late Leo Williams.
A peaceful demonstration tagged #JusticeForLeo was held on Saturday's morning.
During a violent service delivery protest which broke out last month, a stray bullet reportedly hit Leo's head.
Leo who was indoor at that time died instantly.
Laingvile residents are of the opinion that the authorities should get hold of the person responsible for killing Leo William.
According to the community leader, Thyrone William's, the community was deeply saddened following Leo's murder.
He said in the memorandum handed to SAPS, they demanded that the the station commander step down and the community is provided with the right answers.
He said they understood that the Independent Police Investigative Directorate (LPID) is investigating the case but the community members were displeased at the fact that the investigation was slow as no arrest have been made.
"We asked the community today to try their utmost best to remain calm, because this community don't want silence anymore, they want action etc."
Williams made it known that today's demonstration was peaceful despite the presence of the police ,
St Helena Bay residents have given SAPS management seven days to respond to the memorandum.