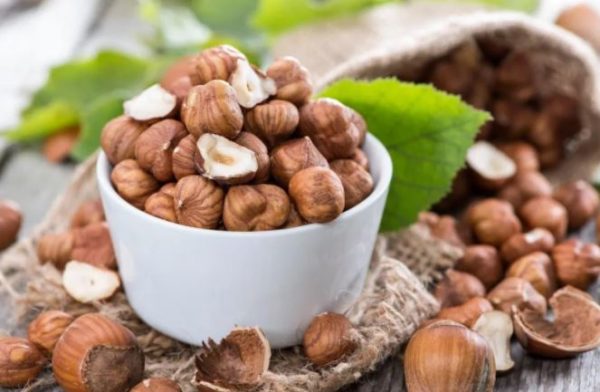 The popularity of hazelnuts seems to be surging, especially with various hazelnut-based bread spreads and chocolates pouring heavily into the departmental stores.
However, hazelnuts and their benefits can be traced back to ancient times. It had been popular as a flavoring agent in the liqueurs and coffee, while its oil had been popular as a cooking medium.
A powerful antioxidant, hazelnut is an ideal source of protein for the vegetarians, especially if you are on the weight loss journey. It is also a rich source of healthy fats, free of cholesterol and sodium, meeting 93% of your daily fat requirements.
Here is the goodness of hazelnuts for skin, hair, and health:
1. Helps in delaying premature ageing
One cup of hazelnuts offers about 86% of the daily Vitamin E requirement. It also contains Vitamin A and Vitamin C, two powerful antioxidants. A synergic effect of these vitamins prevents the onset of fine lines and wrinkles on your skin, thus delaying the early onset of ageing signs.
2. Keeps your skin hydrated
Hazelnuts, as mentioned above, contain Vitamin E in plentiful amounts. This Vitamin E along with the fats of this nut helps in moisturizing and hydrating the skin. It, thus, conditions the skin, keeping it soft and smooth. The skin looks visibly radiant with the slightest tint of greasiness appearing nowhere.
3. Keeps you safe from harsh UV rays
You can apply hazelnut oil on your skin. This will act as a natural sunscreen, safeguarding you from the harmful effects of the harsh UV rays. Just mix a few drops each of sesame, avocado, walnut, and hazelnut oils and apply this mixed oil in your skin daily to get protection from UV rays.
4. Keeps your skin healthy and fresh
Packed with antioxidants, hazelnuts play a vital role in keeping the skin look healthier. The antioxidants combat the free radicals, which, if left untamed, could damage your skin. It also shields the skin from skin cancer induced by UVA/UVB rays. The flavanoids along with the antioxidants stimulates the regeneration of skin cells. This will eliminate the dead cells, rendering a visibly healthier and younger looking skin.
5. Safe and gentle on sensitive skin
The gentle hydrating and conditioning properties of this nut makes it a perfect natural moisturizer for sensitive and dry skin.
6. Treats acne
The use of these rust hued nuts go beyond nutella and muffins. They make an excellent scrub ingredient for acne prone skin along with coffee beans. Crush 1 tsp roasted hazelnuts and mix it along with ½ tsp coffee powder and ½ tsp sugar in coconut oil or olive oil. Use this scrub to treat your acne.
7. Good for dry and damaged hair
Is your hair too dry? Hazelnut could come to your help. Add 2 tablespoon finely powdered hazelnuts to 2 eggs and beat well. Apply this mixture on your dry scalp and hair. Wash off after 20 minutes with lukewarm water and a good shampoo. This will keep the dry hair conditioned and tamed.