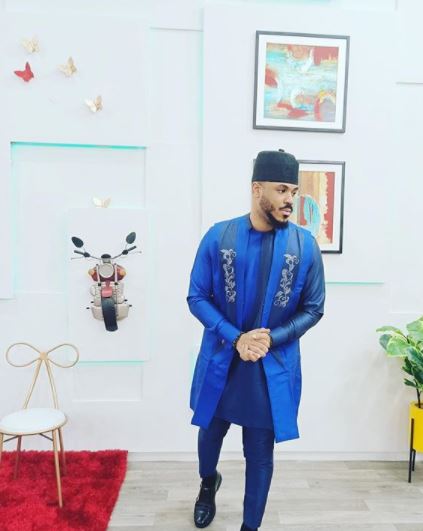 Big Brother Naija housemate, Ozo has been trending all over South Africa's Twitter following his eviction yesterday night.
South Africans started the hashtag, #WeLoveYouOzo to show how much they love and miss Ozo. 
His eviction yesterday took many by surprise most especially Nengi who are both in the same house together.
However, the relationship between Ozo and Nengi is unclear to many as the two were not sure of what they really are.
After Ozo's eviction, Nengi became really emotional as she felt he should not have been the next housemate to leave the big brother house.
In a video that went viral following Ozo's eviction, it was seen he was trying to kiss Nengi but Nengi on the other hand dodge the kiss which landed to him pecking her.
At that point, some felt she really did something wrong and that if she felt same thing Ozo feels for her, then she should have accepted the kiss.
Others on the other hand claimed it is Nengi's choice and since they were not dating yet, then he should not have made the move.
Well, with all that have gone down, his fans really missed him on the screen most especially with the way him and Nengi move all loved up.
See tweets below:
Just look at my boy's baby pic, ahhh Ozo we love you so much & miss seeing you on our TV screens, I can't wait to see you do great things outside 😭❤️⭕… I am voting your best friend this week it the least I can do. Pls sms VOTE Nengi to 32052 #bbnaija #WeLoveYouOZO pic.twitter.com/K7nGrKyWU6

— Zan👑 (@Pwetty_Zan) September 21, 2020
I can't even drop the full video 💔💔💔💔💔 I love you always and Forever @OfficialOzoBBN #WeLoveYouOZO #WeLoveOZO pic.twitter.com/NEY5YbBK6S

— Jessica ⭕️ (@JessyProdigy) September 21, 2020
It is really hitting hard💔💔💔sham these 2,,they will be fine they alwyz hav each other's backs #BBNaijaLockdown #BBNajia #BBNaija2020 #HowToVOTENengi #WeLoveYouOzo #BBNaija pic.twitter.com/wdwx2ckxtx

— Walle (@MashupaWalter) September 21, 2020
Just cause he never got a reply to his letter. Love you Ozo ❤️❤️❤️ #bbnaija #WeLoveYouOZO #DearOzo pic.twitter.com/gV6dKjXG7i

— King J 🦄🦄 (@EZolanski) September 21, 2020
Ozo left us ALL dejected

Even the haters are feeling his absence

FACT!!!!#WeLoveYouOZO #nengifullpackage #BBNaija pic.twitter.com/IUkMUD7ELn

— Nina philip (@nnenna_philip) September 21, 2020
All the hate Ozo got was neva about him, it was about the girl he loves

And now that he's out and the girl is still inside, y'all rushing to dms to book a date with him

So y'all want Tony Umez in your lives but can't stand Nengi having one 🤣#WeLoveYouOZO pic.twitter.com/gadkoGixI1

— Billionaire🔥 (@DOFFISHAL) September 21, 2020
I can't believe i am still in tears. Love you so much Ozo ❤❤❤❤ a rare gem 😍😍😍 #WeLoveYouOZO #BBNaija pic.twitter.com/GJY9k0cAbH

— Racheal😍😘⭕⭕⭕ (@Timmrachy) September 21, 2020
Rembering one of my favorite lines from Ozo

"Imagine teaching a child how to pronounce words without teaching them how to pronounce alphabet's"

We didn't deserve you Ozo we didnt #BBNaija #WeLoveYouOZO pic.twitter.com/At1lHLZX0d

— ozo stan acc ⭕❤ (@Bless02732509) September 21, 2020