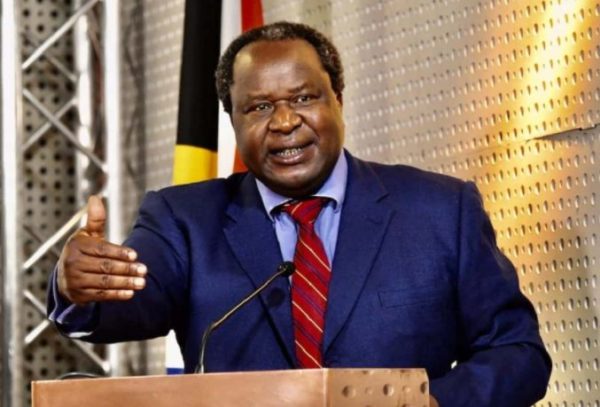 Finance Minister, Tito Mboweni has been all over social media as tweeps want him to be a guest on Somizi's cooking show, "Dinner At Somizi".
This is coming after the minister and Somizi had a little talk on Twitter few weeks back.
Tito Mboweni took to his Twitter to share a picture of the meal he prepared.
The picture got the attention of his followers and wonder if the Minister is planning on becoming a cook anytime soon
Tito himself revealed he does not think the meal is turning out according to plan.
Somizi added that he is invited the minister to have lunch with him.
Well, it looks like he might be the lucky guest to be on the show after
Somizi
asked for suggestions on who to invite to his show.
Fans suggested celebs like actresses Sindi Dlathu, Connie Ferguson, Connie Chiume and President Cyril Ramaphosa.
But it was the "nation's chef" Mboweni's name that kept popping up in Somizi's mentions.
Many were of the view that the two personalities would make a great combination and the minister could learn "a thing or two" from Somizi.
Check out some of the reactions from fans:
Hay Somizi.. I would love to see our Minister @tito_mboweni at the show😌. Thank you#DinnerAtSomizis#tooeasy https://t.co/vPfM5zbTVM

— Tsholofelo (@tt_Thole) September 30, 2020
@somizi I am not asking for money,or charity contributions basically nothing benefitting me. ALL I ASK is for u to invite @tito_mboweni as one of your guests to "Dinner with Somizi " pretty pls 🙏❤

— Oletta (@Oletta15148998) September 29, 2020
Please invite @tito_mboweni 🤣🤣🤣🤣

The man love and enjoy cooking and I am sure he can learn 1 or 2 things to add to his meals. 🤣🤣#tooeasy #DinnerAtSomizis

— Lattimore101 (@lattimire101) September 30, 2020
#dinneratsomizis @DStv please invite @tito_mboweni i'm really curious on what inspires his cooking #tooeasy pic.twitter.com/i8s8U5vlOg

— Nokuthula waha Chaka (@ms2li) September 30, 2020
Please invite Minister of Finance, Mr @tito_mboweni, I think you 2 have 1 thing in common… "cooking" #tooeasy

— Winnie M Mutheiwana 💫🌈✈ (@Lupus_Footprint) September 30, 2020
I would like to see you invite the minister. Mr Garlic @tito_mboweni#dinnerwithsomiz#tooeasy

— Owam 17 ✊✊🤲 (@selekaman) September 30, 2020
I would like to see you invite the minister. Mr Garlic @tito_mboweni#dinnerwithsomiz#tooeasy

— Owam 17 ✊✊🤲 (@selekaman) September 30, 2020
I think if you can invite Tito Mboweni that can spice things up for your show or you can also invite people like Juju, Mbaweez,Ndlozi or just any local guest to get some receipes pic.twitter.com/B5setDfxqu

— 🎧Simphiwe Simpra🎧 (@Simphiw42793482) September 30, 2020
Invite Minister TITO MBOWENI,,he truly needs your guidance and help on your cooking show..please 😉

— @sesilizzy1 (@sesilizzy1) September 30, 2020