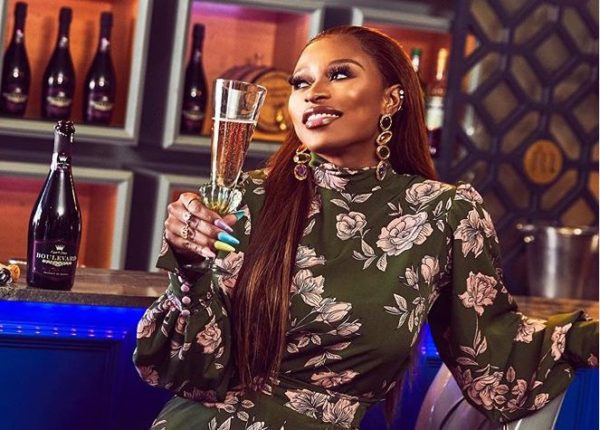 DJ Zinhle is currently trending on Twitter following the announcement that she now the new CEO of Boulevard Nectar Rosé.
The Queen has acquired equity in her international sparkling wine beverage.
Recall, DJ Zinhle revealed on Monday that she's got a big announcement, and on Tuesday, she unveiled the big news which has cause her to trend all over social media.
Let me get a bottle of Boulevard Rosé to celebrate!!🥂

My team & I work really hard, words can't describe this moment. Our hard work never went unnoticed. God really is the greatest. ❤️

Here's to celebrating your moments, the Boulevard way!!!

Cheers! 🥂 #BoulevardXDJZinhle pic.twitter.com/JsQetl3CEC

— #URaMiracle #ERAbyDJZinhle #ZeeNation (@DJZinhle) October 6, 2020
However, many have taken to social media including Pear Modiade and Boity to congratulate the star on her new  achievements.
Other celebrities have done the same as they felt it is a big millstone for the DJ.
Check out some of the congratulatory posts below:
Congratulations!! ✨👑
Let's drink to this 🥂 https://t.co/VGdzf8mGu7

— 𝐏𝐞𝐚𝐫𝐥 𝐌𝐨𝐝𝐢𝐚𝐝𝐢𝐞 (@PearlModiadie) October 6, 2020
QUEEN BOSS!!!!! Yaaaaaassss mama!!! 💃🏾💃🏾💃🏾💃🏾💃🏾😍😍😍😍😍😍👑👑👑👑👑👑 https://t.co/k95BSF74Fg

— #OwnYourThrone👑 (@Boity) October 6, 2020
Ka re: people are doing amazing things and I'm here for it. All of it! Congratulations @DJZinhle 🔥🔥🔥🔥🍾🍾🍾🍾🍾🍾🍾 https://t.co/XYFNA5AsUC

— Rami Chuene🌈🏳️‍🌈 (@ramichuene) October 6, 2020
View this post on Instagram