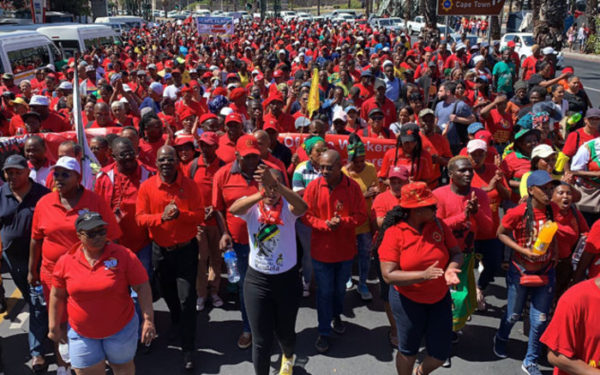 Cosatu and Saftu called on their members to join the strike by staying away from work instead of protesting on the streets to avoid contracting Covid-19.
According to the trade unions, their employer, the government neglected and betrayed them by not honouring the 2018 wage deal agreement hence the national strike.
The unions stated that public servants ought to have their salary increased in April this year, but it was not done.
Also, the workers feared for lack of safety in the workplace.
A Teacher, Masego Fisher said government has failed public servants.
"That is a clear demonstration that our employer doesn't care about us.
"It's a sign of no respect and appreciation towards hard-working teachers even during this time of pain and anxiety caused by this pandemic," Fisher said.
Sithembile Khumalo works at Charlotte Maxeke Johannesburg Academic Hospital.
"We have a problem with OHCS and safety," Khumalo said.
"Besides the health protection the other health protocols, we become worried as you can see in the news, we see too much rape cases especially here in Gauteng.
"Secondly, the reason I am joining the strike is because of the resolution one of 2018, which the government is fighting against now."
Cynthia Msomi, another employee of Charlotte Maxeke Hospital, said, "we are essential workers, I think we can demand our rights and that the government has to pay us our money."
"The Federation is encouraging workers to exercise their right to challenge and contest this rigged economic system and we will be targeting government, private sector employers, and law enforcement agencies," a statement on the mass action reads.
"We need to take a stand and push back against this flagrant theft of taxpayers funds and the disgraceful abandonment of the working class by policymakers and decisionmakers."
"The only way to undo this corrupt system is through disruption and non-cooperation and obstruction."
The members will march from Langa to the Cape Town Civic Centre to give the Cape Town Mayor Dan Plato a memorandum of grievances.
The march will make stops at the Western Cape provincial legislature and parliament.