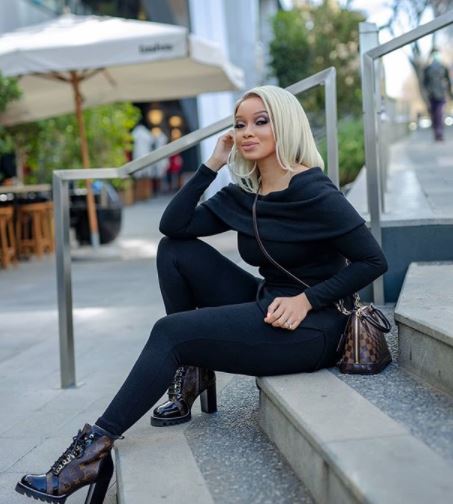 Dineo Langa is not taking it likely with perverts who wants breeze to "blow up" the skirts of women who have joined the viral #JohnVuligate ladies' video.
The trend kicked off after a group of ladies started a dance step to a new song by Mapara A Jazz Ft. Ntosh Gaz & Colano.
The ladies made the song go viral and people are catching cruise with it.
However, when Dineo realised that men were using the comments section of the video to be perverts, she had to call them out.
Dineo expressed how disgusted she is towards the comment.
She said: "I love the Beyoncé of the 'John vuli gate' video … Young, carefree and absolutely the girl she thinks she is in that pleated leather skirt. I am disgusted by men who are in the comments section, hoping and praying that the lead lady's skirt goes up due to a sudden gust of wind. Let girls have fun in peace yerrrr!"
#johnvuligatechallenge #weekendvibes already activated 💃💃💃🔥🔥🔥 pic.twitter.com/LNP73ToSJ5

— LUM (@Lissah97) October 15, 2020
Thinking that was all until another tweep made a similar comment saying he "SBWL'ed" (was craving) to see a sudden gush of wind show up.
Although, the tweep stated he was just joking but Dineo was not having it as she slammed him instantly.
"Be ashamed brother. What you just said is very predatory. Check yourself for wanting to peek under a young girl's skirt without her permission," Dineo said.
See tweets below:
Ke rata Beyoncé wa the "John vuli gate" video… Young, carefree and absolutely the girl she thinks she is in that pleated leather skirt. Ke nyontsha ke banna ba mo shebile ba minya hore skirte sa haye siye hodimo in the comments section. Let girls have fun in peace yerrrr!!!

— Dineo Langa (@therealdineo) October 14, 2020
And they go on and on about how the wind failed them nxa.

Anyway, I hope our Queens get to have a safe & fun festive season without these predators hunting them.

— Dineo Langa (@therealdineo) October 14, 2020
Swaba abuthi. What you just said is very predatory. Check yourself for wanting to peek under a young girl's skirt without her permission.

— Dineo Langa (@therealdineo) October 14, 2020