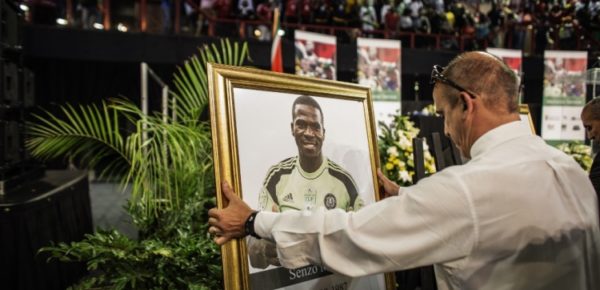 The Meyiwa family mentioned that the news which followed the arrests of five suspects who were linked to Senzo Meyiwa's murder is "bittersweet."
Police Minister Bheki Cele made the announcement that five suspects have been apprehended on Monday in Gauteng and KwaZulu-Natal.
The family is after justice to all the suspects who are in connection to the crime.
Six years ago, Senzo Meyiwa was murdered at his girlfriend's home in Vosloorus.
Family spokesperson – Siyabonga Meyiwa mentioned that it is still difficult for the family.
"Senzo was literally everything in the family, we were looking up to him becoming a really bright star, which unfortunately was extinguished by some really bad people," he said.
"We're looking forward, everyone who was part of the murder must be booked as well."
"For the family, his mother is happy but there's nothing that can make up for what Senzo would have done in the family, in terms of, giving them the type of living and the type of benefits that we were expecting and we were looking forward to in his career."
"There was a lot of investment that was done by the family and sacrifices in making sure that he was successful."