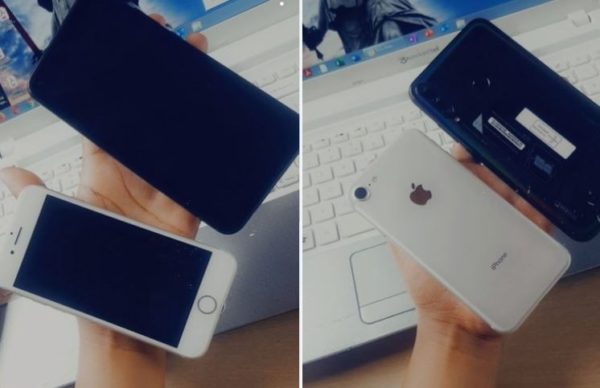 Young South African woman got social media users wilding after claiming that it's a blessing to have multiple boyfriends.
Taking to Twitter, the lady claims she was blessed with 2 iPhones from different boyfriends.
"Have multiple boyfriends they said, it'll be fun they said… now they both bought me phones shame," she captioned photos of the new expensive phones.
While some tweeps expressed disappointment, a few others warned her to be careful and other person mocked and jested her act.
A person urged her to go with just one of the guys she loves the most, but she replied saying she loves her boyfriends  and not letting go of anyone.
Comments be like:
How i wish i was a woman…Nkabe ke nale phone tse 12 pic.twitter.com/Mjo6OUwYUc

— Roscoe Diablo (@RoscoeDiablo) October 27, 2020
Bruuuuh I love them both 😂🤣😭😭😭

— 👑 G-Wagon 👑 (@kneetak1) October 27, 2020
That matters not, as long as I've got 2 new phones 😂🤣

— 👑 G-Wagon 👑 (@kneetak1) October 27, 2020
Kanjani? Lol

— 👑 G-Wagon 👑 (@kneetak1) October 27, 2020
Bruuuuh I already have a story…😅😂🤣 "So babe since I was complaining about my phone you bought it for me, guess what… my dad bought me one cos he heard me complaining" that's a story for both men.

— 👑 G-Wagon 👑 (@kneetak1) October 27, 2020
Imagine sleeping with someone just because of an electronic. South African Women ningihlulile🤞😂😂😂😂

— U.G.K (@maxwell5197) October 27, 2020