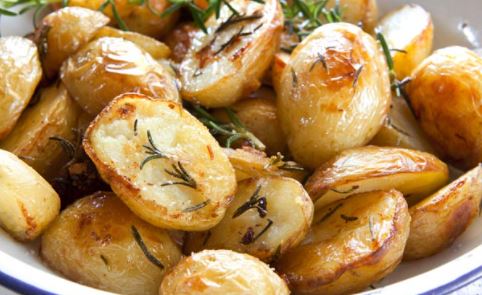 Potato is one of those starchy vegetables that has a bad reputation when it comes to healthy foods.
Many people avoid potatoes because of their high carbohydrate content and moderate amounts of protein and fibre.
Potatoes are versatile, be it boiled, baked or roasted, it is frequently served as a main dish, side dish or snack.
Potato is an energy-providing food with little fat content. It is rich in carbohydrates, vitamin C, potassium and B vitamins. Potatoes when cooked with skin provide essential vitamins and minerals like potassium, vitamin C and fibre.
To get most of the earthy flavour and nutrients from potatoes, you need to cook them in a healthy manner. Here are 5 healthy ways to eat potatoes:
Baking potatoes with the skin will add no extra fat instead you will get more dietary fibre, vitamin C and potassium. Studies have shown that potato skin contains a good amount of dietary fibre. 100 g of cooked potatoes with the skin provides 2.1 g fibre, whereas, 100 g of cooked potatoes without the skin provides 1.8 g fibre.
How to cook: Cut potatoes into wedges. Place them on the baking sheet and drizzle some olive oil and healthy seasonings like crushed garlic, paprika, salt, parsley and other herbs. Bake it for 30 to 35 minutes and serve hot. Avoid adding cheese to it as it will increase the fat content.
When we say roasted potatoes, it doesn't mean that it has to be deep-fried. A roasted potato recipe makes for a perfect side dish that goes with almost anything that you prepare as a part of your meal. In addition, roasting is a healthy and easy way to cook potatoes.
However, make sure that you blanch the potatoes and avoid roasting them for a longer time as it increases the acrylamide content in roasted potatoes. And studies have shown that acrylamide has a detrimental effect on the body.
How to cook: Chop a few potatoes and toss them in olive oil, salt, pepper and rosemary. Place them on the baking sheet and roast them in the oven for 30 to 40 minutes.
Another healthy way to eat potatoes is to consume them in mashed form without the addition of mayonnaise or cheese. Mashed potatoes not only serve as a perfect side dish but also makes for a great topping to your favourite home-made burger or sandwich.
How to cook: Boil the potatoes with few garlic cloves. Drain the water and mash the potatoes and garlic with salt, black pepper, olive oil and chopped scallions.
4. Potato salad
Potato salad is a classic side dish and one can't go wrong with this recipe. It is healthy, easy and packed with nutrients due to the added veggies and herbs and without any added mayonnaise or mustard sauce.
How to cook: Boil the potatoes with a tsp of salt and cook it until it's tender. Chop the potatoes and add chopped celery, onion, boiled eggs, cucumber, bell peppers, salt, pepper, paprika, rice vinegar and drizzle some olive oil over it.
5. Potato soup
A bowl of warm potato soup is a perfect food for the soul. It is delicious, healthy and you can enjoy it on a chilly day. Most versions of potato soup add cream and cheese, but a healthier version of potato soup can be cooked with chicken or vegetable stock.
How to cook: Boil the potatoes, onion, celery and pepper until they are tender. Combine cornstarch and chicken or vegetable broth and mix it until smooth. Chop the potatoes, onion and celery and add to the cornstarch and vegetable stock mixture and cook it on medium heat. Season with salt and pepper and serve hot.