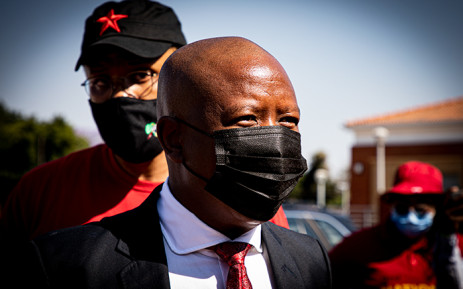 Court has postponed the assault case against Economic Freedom Fighters (EFF) leader Julius Malema and party MP Mbuyiseni Ndlozi.
It was postponed to March next year pending further testimonies of witnesses.
The pair is accused of pushing Colonel Johannes Venter who refused to allow them into Winnie Madikizela-Mandela's cemetery claiming that they were not accredited to enter.
When the duo appeared in court on Thursday, Malema's lawyer, told the Randburg Magistrates Court that Colonel Johannes Venter did not look for the permit on the EFF leader's car before stopping them.
The two accused pleaded not guilty to the charge, but are yet to give their own version of events.
Malema's lawyer, Advocate Laurence Hodes made use of a video evidence to prove to the court that the paper on Malema's vehicle was in fact accreditation.
He asked Venter why he did not look at it.
"Your worship I see that there is a white paper there by the window. It can be a permit and it can not be a permit," Venter said.
Hodes responded saying: "You didn't bother to look. Let's be honest for once, you didn't bother to look."
Venter still insisted that he saw no accreditation on the vehicle.
He also said Malema's vehicle was not part of the official convoy.